If you want to know the future of marketing your small business in 2022, you need to know what the world's smartest marketers are sharing this week in San Diego at the 2021 Traffic & Conversion Summit. It is known as the largest digital marketing and networking event in North America. The digital marketing strategies and tactics shared from the 2021 Traffic & Conversion Summit stage at this event have been tested and proven to increase traffic, conversions, and sales. 
Needless to say, we took TONS of notes! From SEO marketing, to social media, to actionable growth strategies, and much, MUCH more, they covered it ALL.
With hundreds of sessions over a 3-day period, there's no way I could ever come close to sharing all of the takeaways from the 2021 Traffic & Conversion Summit (T&C) with you in one blog post; however, I want to share some of our team's favorite knowledge bombs. Because we know you're just as excited as we are to learn the future of marketing your small business in 2022. 
Let's get to it. 
Marie reminded us that success comes not from what you do occasionally, but rather from what you do consistently. She also gave us permission to free ourselves from the crushing cycle of stress, overwhelm, and exhaustion and the pressure so many of us feel to subscribe to the 24/7 hustle culture. I don't know about you, but this was a message I really needed to hear. I love how Marie always shoots straight. If anyone knows how to connect intimately with a room full of thousands of strangers in minutes, it's Marie. She nailed it.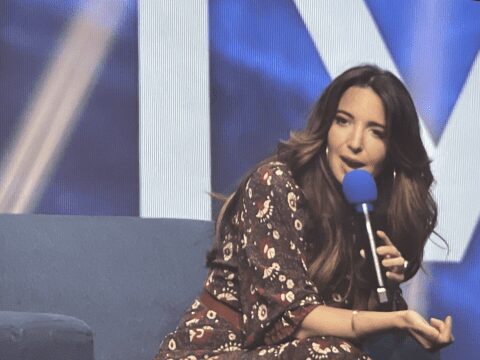 Lamar taught us that increasing your revenue doesn't have to start with hunting down new leads. If your leads aren't ready to purchase your core offer, come up with a lower-level offer that might get them in the door. Once they've purchased, offer a cross-sell (complementary products/services) or an upsell into a VIP version of what they've already purchased.
Tara taught us the importance of consistency in running successful ad campaigns. What worked last month might not work this month, and what works today might not work tomorrow. If you want your ad campaigns to succeed, you should be consistently testing, tweaking, optimizing, seeing what's working and what's not. If your ads are less effective this week than they were last week, it's time to take a closer look and see what you can tweak to get the results you want.
What did Ryan Deiss have to say? Sorry, but I can't tell you that because I missed his opening keynote this year (#MomLife.) But, I can tell you that I heard he talked about the future of marketing, specifically, the 3 principles of "post-digital" marketing:

Own the message

Own the data

Own the media



What does all of this mean? Well, I don't know yet because I have to wait until I get the recording. But, I can tell you I had the opportunity to chat with Ryan the day before the 2021 Traffic and Conversion Summit started since I'm a Digital Marketer Certified Partner. There's one reason why you should care: Ryan says a marketer is only as good as the tools & strategies at their disposal. As a Certified Partner, I have access to all of Ryan's proprietary tools, duplicatable frameworks, and step-by-step playbooks needed to achieve the only thing that matters…results! And if that is right there isn't reason enough to hire me as your Fractional CMO and my staff to be your marketing implementation team, take a look at our customer testimonials and some of our other differentiators (Did I mention I'm also a Certified StoryBrand Guide?!)
We have all experienced the dread that comes with having to learn another social media platform. But Rachel reminded us that with that dread there is also a huge opportunity. When a new social platform launches, the early adopters have the chance to become the go-to experts in their industry for that platform. So get in early, provide a TON of value, quality content, and position yourself to be the go-to authority in your industry.
With all the privacy updates that have been made in the digital world in the last couple years, it's becoming harder and harder to get access to the information you really need to make wise decisions for your business. But the reality is, that info is out there. I was so glad the 2021 Traffic and Conversion Summit made sure to include someone who knows all about this important topic. And if we learned one thing from John Moran's talk, it's this: sometimes you just have to trust the people who do have access to that information.
In this case, that "person" is Google. If you are using Google Ads, you need to be using Smart Shopping. The downside to this feature is you will have less control over how your ad campaigns are run. But the upside? You get access to all the information at Google's fingertips — well ok, you won't actually be able to access that information yourself. But Google has access to it, and if you let them they'll use all that information to get you what you really want – more traffic, more leads, and ultimately more conversions. We joke a lot about Google being a "necessary evil" but this is one instance when you really should just trust the algorithm
Side note: he also said you need to give Smart Shopping campaigns at least 45 days to see results. If you want more from John and/or Solutions 8, you can check them out on YouTube.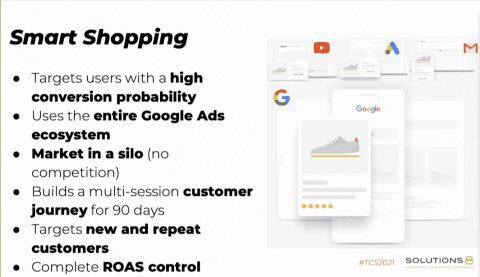 Jason said there are 5 key levers to business growth:
Awareness

Lead generation

Conversion rate

Price

Buying frequency
He dropped a lot of good stuff in this session, emphasizing the need for diversified traffic, pre-qualifying leads, automating follow-ups, and delivering a great customer experience.
Martha Stewart might not be the first name that comes to your mind as a speaker for the 2021 Traffic & Conversion Summit. And I'll be honest, by the time Martha hit the stage, I was exhausted. I almost didn't make it. But I'm so glad I did! I had no idea she was as hilarious as she is!
This business mogul shared a lifetime of lessons with us. This included her belief that you shouldn't take political sides publicly. Why? Because your audience includes people on both sides of the fence. This kind of flies in the face of what we see these days with major brands sharing their political beliefs left and right. But I think there's something to the wisdom Martha has gained after all of these years. I mean, clearly, the woman has learned a thing or two along the way. She has a lot to say about the future of marketing!
It was interesting when Martha addressed internet trolls. Her general rule of thumb is to not respond to any of their comments. She said, "it hurts to read things that aren't true about you. You just have to be stronger than the opposition." She also confessed to breaking her own rule yesterday when she did respond to a troll. I've gotta say, I was surprised (and delighted) by her authenticity. 
The 2021 Traffic and Conversion Summit made sure to include something on Google My Business, and it didn't disappoint. There were some eye-opening lessons. Did you know that you can put hours and hours into building out your Google My Business profile, get everything perfect, and then it can all just… disappear overnight?
(We learned this the hard way recently so if you want to avoid a huge frustrating time-suck, keep reading.)
Google automatically updates your Google My Business listing based on the information it pulls from other sites, third-party apps, and even changes suggested by other users. That means your hours of operation, company description, and even your URL can be changed because a well-meaning customer suggests incorrect info for your business. Worse, a competitor might decide to play dirty and change your info on purpose!
Don't believe me? Sherry shared with us a story (and a screenshot) of a high school in her hometown. Their URL had been changed to a very inappropriate website by a student who was at home bored and decided to have some fun with his school.
All that to say – if you have a Google My Business profile, you need to keep a very close eye on it. Keep a Google Doc with all your info in it so that if it gets changed on your listing, you can easily change it back. And once your profile is perfect, check back regularly. We suggest checking your GMB profile at least once a week, and more often if you've recently dealt with a problem customer or had a run-in with a competitor.)
Molly taught us that the future of marketing might lie in looking to our past–she argues that there is much we can learn from tv shows we watched as kids. 
Mr. Rogers helped raise 3 generations (at least) by simply showing us how to start conversations. He didn't start his episodes with "Hey everybody everywhere" or "Hi neighbors" it was always "Hey neighbor." He was a master at speaking to the individual on a massive scale. 
Conversational marketing creates great experiences, and great experiences sell. In fact, as we learned from Molly, companies focusing on human experience have 17 times faster growth than those that don't. 
What can you do today that creates the opportunity for more conversations?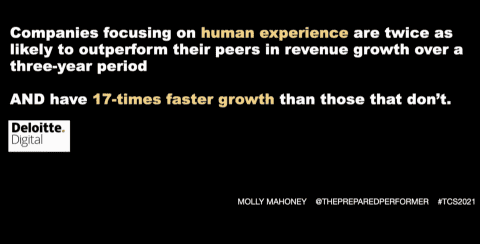 Think back to March 2020. You can probably remember exactly where you were when businesses and schools shut down in your area. Life changed in the blink of an eye, literally. And if you're like a lot of our clients, you had to shift the way you did business, and you had to do it quickly. Your audience's needs changed dramatically overnight and you had to adjust to fit those new and ever-changing needs.
Now, we sincerely hope that we never have to experience another 2020. But the reality is that even when life is 100% normal, your audience's needs aren't static. And as Jeremy taught us, you absolutely must be regularly reviewing and refreshing your creative to address the needs your audience has now. If you need help keeping your ad creative current, we'd love to chat.
One of the O.G.'s if I say so myself, John has been a trusted marketing authority for a long, lonnnng time. So he was practically a must-have on my list of speakers to check out at the 2021 Traffic and Conversion Summit.
He challenged us to rethink the customer journey. He presented what he calls The Marketing Hourglass. This digital marketing method argues that today's customer journey needs to include 7 key stages:
Know

Like

Trust

Try

Buy

Repeat

Refer. 
Then, he told us content can be the marketing tool that powers each stage of the journey. This clearly gets a high-five from me given that we write content here at SizzleForce Marketing! (There's my not-so-subtle self-promotion. #SorryNotSorry.)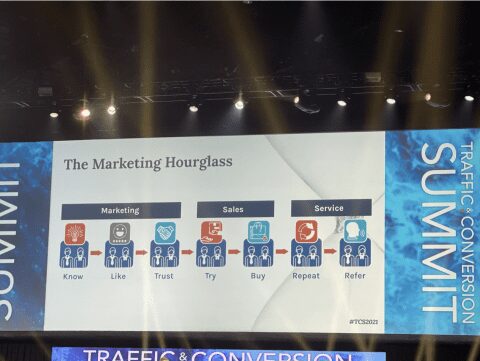 There 4 ways to quickly increase your revenue:
Offer different service levels. Silver, gold and platinum is a model you've probably seen before. 

Bundles

Recurring annual subscriptions and memberships

Premium/pro versions 
Shaina reminded us of the all-important life lesson – work smarter, not harder. Coming up with content for your blog and YouTube channel, along with posts for your social media feeds, Reels, TikToks, Stories, IGTV, and everything else you can think of… it's overwhelming. But it doesn't have to be.
By creating a handful of pillar pieces of content, you can quickly and easily create enough content to last you an entire year. Don't believe me? 
From 1 long-form blog post, you can pull out at least 2 90-second quick-tip/listicle style videos, and at least 2 25-word graphics, which can then be shared throughout the year as email marketing campaigns, Facebook & Instagram feed posts and stories, Facebook group posts, Instagram reels, IGTV or YouTube videos, LinkedIn personal feed and business feed posts, TikToks, and more. If you write one blog every week, congrats! You've just created content for 44 additional posts across 6 social media platforms. Feel productive yet?
It's easy to get caught up in vanity metrics. You gained 100 followers one week, so it's time to celebrate! But the next week you lose 50 and suddenly it feels like the end of the world.
But Sue B. reminded us of something really important – social media is about more than followers and "likes". It's about building a community. So how do you do that? One easy way to do this is by starting conversations (remember that lesson from Molly above? She and Sue B. are on the same wavelength). Get in the comments on your posts and on other people's posts. Ask questions, respond to comments, if someone says they loved your post, ask them to tag a friend who might also love it. This doesn't have to be complicated!
Additionally, Sue B. taught us that every single post you make on social media should be at least one of the following:
Authority-building. Give people a reason to trust you.

Relatable. Showcase your humanity and share content that is easy for your audience to empathize with.

Relevant. Don't try to be all things to all people. Focus on providing content that your ideal customer will resonate with.

Saveable. Give Instagram a reason to show your content to more people by creating content that is so valuable, people want to revisit it later.

Shareable. Create content that appeals so much to your audience and is so valuable that they're compelled to share with other people.
Kemy taught attendees of the 2021 Traffic and Conversion Summit a very hard truth: mistrust is the most expensive problem a company can have.
If prospective clients don't trust you to deliver on the promises you make to them, they're never going to sign the dotted line and write that check.
Likewise, if employees (or prospective employees) don't trust that you can provide a work environment where they feel safe to thrive, they won't want to work for you.
Here's another truth from Kemy: your company culture is happening, either by DEFAULT or by DESIGN. If you are not intentionally building trust into your company's culture, don't be surprised if you end up developing a culture of mistrust by default.
Everyone thinks the sky is falling because of the iOS updates. While they may seem daunting it's just a reminder that we need to go back to basics: copy is still king. Your creative must resonate with your avatar. (Hint, hint, nudge, nudge: we just so happen to have a stellar copywriting team here at SizzleForce Marketing. Maybe you should make an appointment to chat with us about how we can help you?) 
I love Chris (commonly known as "Mercer.") He's ridiculously smart and good at everything I suck at. He emphasized the fact that too many business owners focus on end result numbers without considering the importance of HOW they came to be, which is equally if not more important than the end result. He concluded by telling us the truth is in the trend and the power is in the pattern. Slam dunk.
I know how much we all love to have benchmark numbers. So I'll let you know Peggy told us 2-5% conversion is good when it comes to influencer marketing campaigns. 
My sweet friend Kat absolutely brought down the house in her talk on Pinterest Marketing. She told us to look at Buzzsumo to find out what's ranking everywhere except on Pinterest and then, to create pins for those things. If you want your pins to go viral she said you must get in the habit of making your pins stand out. If every other pin is dusty pink, make yours bright yellow. Experiment with sizes. Test video pins. You get the idea! She also told us the perfect pin description looks like this: 
SOP's are the key to success. Tell employees, "as soon as you've documented your job so well that someone or something else can do it as well or better for the same amount or less money, I'll promote you."
I had never heard of The Ad Girls before seeing Courtney speak at the 2021 Traffic and Conversion Summit, but I'm pretty sure I want them to be my BFF's now. Courtney over delivered in her presentation on Facebook ads. She walked us through how every ad needs to include four "messaging buckets"
Credibility

Vulnerability

Personality

Feel-good
She also threw out some powerful benchmarks:
Ads need to have a 1% link click-through rate or more

Once tested, ads should have a CPC of $1 or less

Your website conversion rate should be 2-4% of your traffic

A 30% abandon cart rate is to be expected

A 15% add to cart rate is good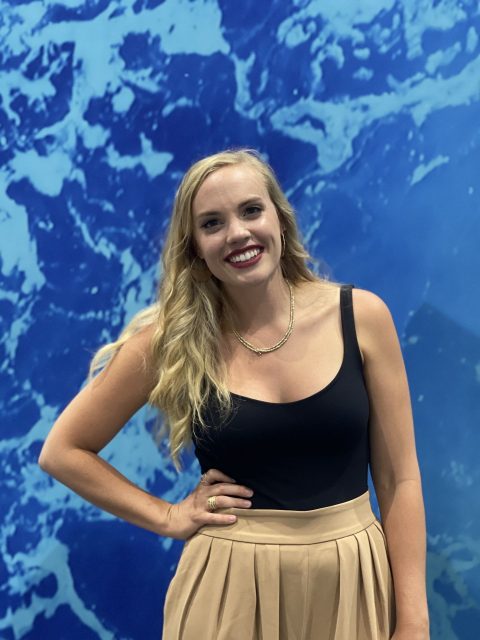 We wrapped up this digital marketing event by learning a BIG truth that applies not only to business but also to life: Surround yourself with people who will tell you the truth.
Now to be clear, you don't want people around you who are going to break you down and just be mean to you all the time. But as business owners, and as human beings, we need people around us who will provide wise counsel when we're making big decisions, and who will gently and lovingly call us out when we're making big mistakes. At least, I know this is 100% true for me.
As you can tell, the 2021 Traffic & Conversion Summit did not disappoint. It never does. This is why I always, always make sure to attend. This post only highlights a handful of takeaways for each session we sat in on. We still have at least 50 more content sessions to watch!
For now, we're going to let all of this goodness marinate in our brains. But rest assured, we will use it to help our small business marketing clients win, win and win some more in Q4 and throughout 2022!
And for right now, well, we're heading home so we can get some much-needed sleep. Sweet dreams, y'all. 🙂