There's been a trend going on for a few years on YouTube called "IceBerg Videos." The idea is to start at the tip of the iceberg on a subject, then go deeper until you arrive at some deep and obscure knowledge that no one has thought to explore.
We won't get that obscure today, but we will talk about the AI marketing tools that no one seems to be discussing. AKA tools that aren't ChatGPT.  So, buckle up and get ready to discover some game-changing, time-saving AI tools!
AI Marketing Tool #1: Casper AI – Research made simple.
Spending hours and hours researching what's trending in your industry and what your competition is doing (not to mention trying to sort and compare that information) is a tedious process.
Casper AI makes this process easier by summarizing articles and providing insights. A Chrome extension you can add to your web browser, it's easy to install and easy to use. But what exactly does it do?
Well, for one, it can summarize a long web page in a single click. It can turn that summary into a bulleted list or (like ChatGPT) into anything you request it to be. It can also offer counterarguments – quickly providing potential objections to the information provided.
But, similar to ChatGPT, you can make specific content requests using the summary it generates. For example, we asked it to write social media posts, outlines, and key takeaways based on the website summary it had just generated. No more limitations based on data from 2021 (one of the downfalls of ChatGPT, at least as of this writing) – suddenly, we had access to a tool that allows us to quickly digest live information without leaving the page we're looking at. 
Casper AI is free and is currently in Beta. As with most AI technology, you may experience downtimes and glitches. It is also directly connected to ChatGPT and OpenAI and therefore shares some of the same shortcomings. However, considering the time it can save researching, we think this is a great tool to add to your marketing toolbelt!
AI Marketing Tool #2: Canva – Streamline Your Graphics
Canva? Really?
Yes, really!
Canva is a popular graphic design tool for marketers, but what does it have to do with AI? Well, Canva is stepping into the AI game by releasing TWO AI features that make the tool more powerful… kind of.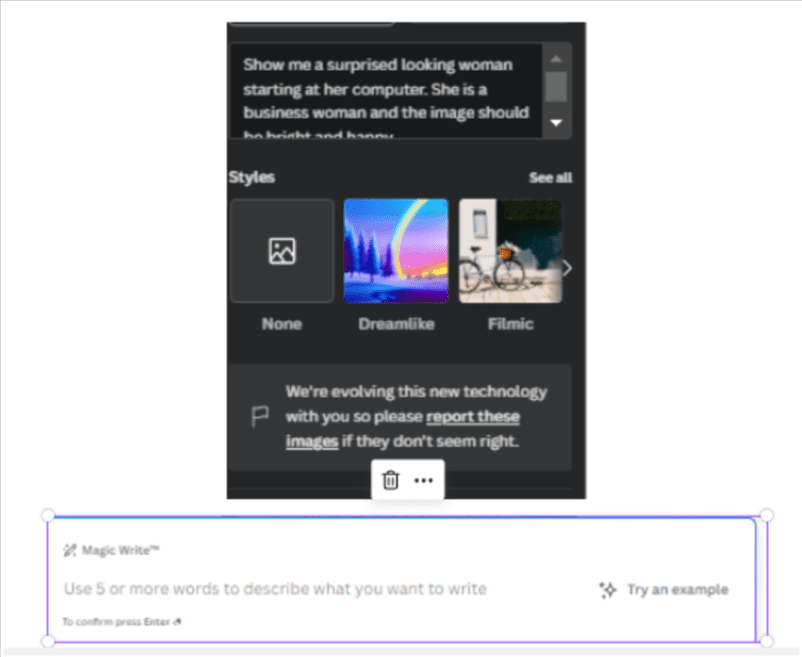 Between the magic write tool and the image creation tool, creating totally original graphics can be a cinch! But we have to emphasize the "can" here. As with all things, there are pros and cons.
We love that Canva gives you a simple "pick your style button" to speed up the process, but it's clear after utilizing it that this particular robotic intelligence has an easier time working with photos than it does with "filmic" style. 
As for its "Magic Writing Tool," weeeell…It's actually Chat-GPT.  They've built ChatGPT into their program to make it easier to generate your written content while designing your graphics – which is pretty cool! While their image generator is still being polished, we appreciate the steps Canva is taking to integrate AI into their platform – ultimately saving time for creators everywhere!
AI Marketing Tool #3: Midjourney – Personalization Made Easy
Moving a little further down, we've got Midjourney! We've talked about them before. This is an AI-powered image generator that transforms your natural language prompts into stunning visuals. It's perfect for branding, blogs, A/B testing, and sometimes some much-needed art therapy. 
At first, this tool feels more like creation for creation's sake until you think about its implications on personalization within your marketing. Identifying your target audience and understanding what kind of imagery appeals most to them can make it easy to generate images that are more likely to increase your conversion rate.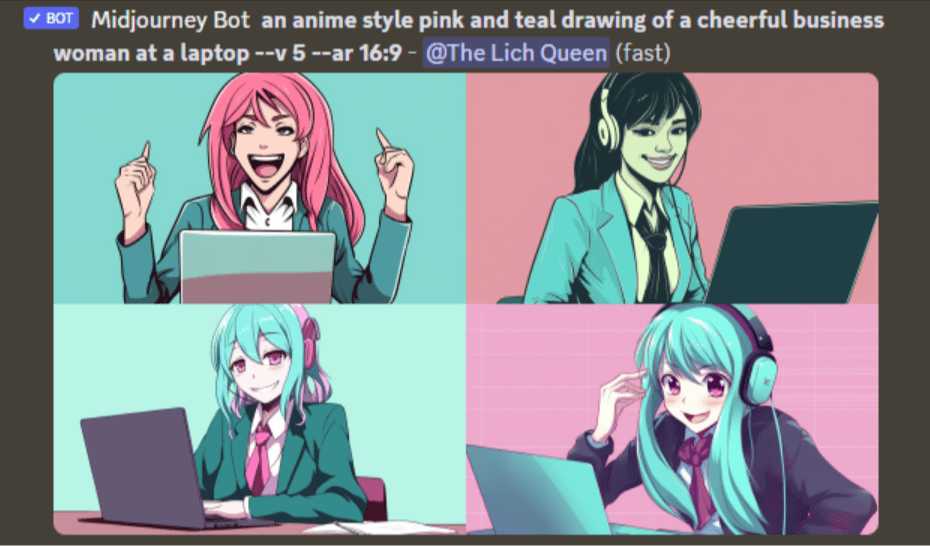 But, Midjourney isn't the most accessible tool out there. You need a Discord account to join the Midjourney gang. Once there, you have to navigate through the "Newbie" server. It can be overwhelming! The free trial experience is like a battlefield where you and 200 other creators attempt to generate images in a single chat room.
If that's too much, you can shell out $10/month for a private chat experience. It's worth the price, especially with the release of Midjourney's Version 5 update. It offers a more comprehensive stylistic range, heightened responsiveness to prompts, and even more detailed images.
There are serious concerns surrounding AI-generated imagery, though, including a hot debate centered around potential copyright infringement. It's an important conversation to have. By addressing these issues, we can continue to use these powerful tools responsibly and ethically, empowering and respecting creators.  
That said, Midjourney is a powerful tool for creating attention-grabbing images that could attract potential customers.  We have a feeling it's not going anywhere anytime soon.
AI Marketing Tool #4: Copy.AI – Who Needs Prompts?
Moving to the water line, we've got Copy.AI. It offers features that allow users to summarize long text, paraphrase sentences to avoid plagiarism and generate unique titles. You might be thinking, "Yeah, ChatGPT does all of that," which is true. However, Copy.AI's interface is what sets it apart.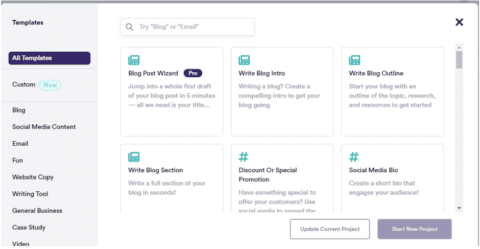 When we talk about interface, we're talking about the various templates and writing assistant tools that Copy.AI offers. Visually driven business owners may find the bog outline, email, and website copy templates more straightforward than the prompt system we associate with ChatGPT.
We love that Copy.AI provides training resources for users to learn how to use it effectively for different content types. With the help of Copy.AI's many writing frameworks, you can easily create blog posts, ad copy, website copy, emails, and more!
Now, here's the catch – while Copy.AI is an incredible tool, it comes at a cost. The free plan offers up to 2,000 words per month. You'll burn through that very quickly if you use their blog-writing tool or blog outline tool. Copy.AI's "paid" service seems prohibitively expensive, even with all the bells and whistles it offers compared to other AI writing tools. 
AI Marketing Tool #5: Vidyo.AI – AI-Powered Video Editing
We hadn't even heard of Vidyo.AI until recently, and we realized that we'd definitely been sleeping on it when we began exploring a little deeper. 
If you regularly use TikTok or Instagram reels for marketing, odds are, you've spent hours sifting through video footage to create social media posts. 
Cue the entrance of Vidyo. AI. It's an AI-powered video editing platform that simplifies editing, making creating high-quality, shareable content more efficient.
Vidyo.AI uses AI technology to automatically select the most engaging parts of your video and convert them into a short clip perfect for sharing on platforms like Facebook, Instagram, and TikTok. It also offers a range of video editing tools, including auto video subtitling, resizing, clipping, social media templates, and more, to enhance the visual quality of your content.
To get started, you just sign up for a free account. Then, import your Zoom call recordings to the platform using your web browser. You can also compile multiple videos into a single clip, complete with captions and emojis, which is an incredibly helpful addition.
This is such a great example of AI saving creators' time that we just had to add it to the list.
AI Marketing Tool #6: AIPRM Chrome Extension – The Key to Making the Most of ChatGPT
We're at the bottom of the SizzleForce AI marketing tool iceberg!
Technically, the AIPRM Chrome Extension is for ChatGPT, but we're not sure how many active ChatGPT users are making the most of the experience using this tool. It's easy to use, and the free version alone can completely transform the experience.
AIPRM is a prompt-generating tool that provides a "one-click" list of curated prompts. You pick your prompt, add keywords or details to what you want, and away it goes!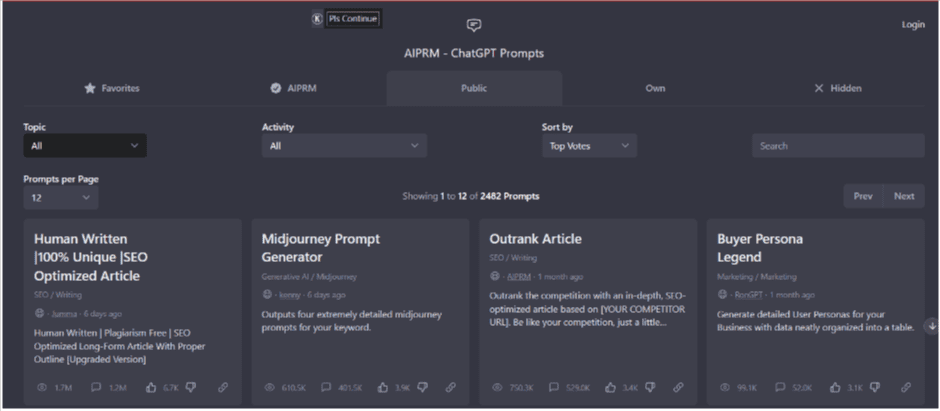 Because the prompts are built by a community, a ranking system allows you to identify the prompts that are most popular and, therefore, most helpful in your content creation. 
We were impressed by how AIPRM works WITH ChatGPT to create a broader range of content. It even generates Midjourney prompts, which ChatGPT can't do without this extension. 
The AIPRM Chrome Extension is easy to use and requires no technical skills. It's a helpful tool for marketers and business owners who want to improve the quality of their content and save time in their process.  Basically, we're obsessed with how this tool has improved our content creation experience! Remember to throw in some human intelligence to ensure your content sings!