We put it to the test! Human vs. AI Content Creation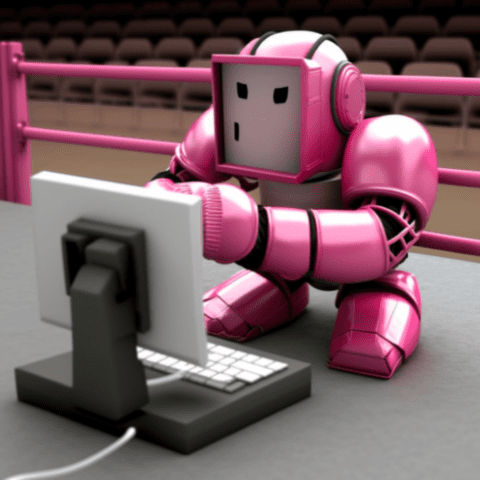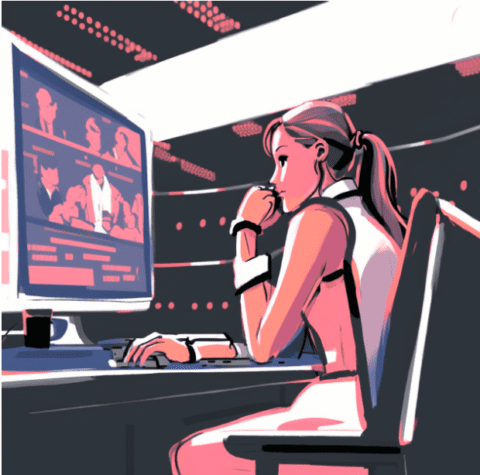 "Welcome to the ultimate showdown of the digital age! In this corner, we have the reigning champions of content creation, the masters of wit and creativity – humans! And in the other corner, we have the challengers, the futuristic tech titans – AI! That's right, folks, it's Human vs. AI Content Creation, and the stakes have never been higher."
It sounds silly when you put it like that, huh?
At SizzleForce Marketing, we don't believe that artificial and human intelligence are in competition. In fact, we believe that humans and AI are the ultimate collaboration. 
So we aren't at war with AI. We are in LOVE with AI. 
Poetic, eh? 
Sure, AI has its shortcomings. At the end of the day, text written by AI has no heart or soul, and you can feel it in your gut when you read something it's written. It's like a fake proposal on a reality show. All the essential elements are there–the ring and the bending of the knee, yada yada. But something in the words falls flat. 
Yet… 
AI is smart. It knows more than we humans can ever know. 
So what do you do with that? We'll tell you what you do. 
You take what AI gives you and add a bit of your own magic. THEN, you've got something powerful. 
But seeing is believing. We asked ChatGPT to write a few pieces of key content–the kind of content our clients rely on to fuel their businesses and convert leads into raving fans. Then we took what it gave us and saw what we could do with it… 
We call this blog a little story of before and after–what happens when we take what AI gives us and turn it into something else. Is this a convincing argument that human intelligence might just be the answer to AI? 
We'll let you be the judge.
Say Yes to the…Instagram Post?
For our first assignment, we created an Instagram post for a fictional store specializing in wedding dresses. Our goal was to drive conversions and get brides-to-be excited about the idea of shopping at this fictional store! 
ChatGPT's attempt was a little long-winded and didn't exactly spark joy.  There were elements that we liked, such as the solid descriptive words, but we definitely felt it needed some help. Plus…it needed to be shorter. So…
We asked it to be shorter!
The new post still lacked that special something. Plus, now it had made it so short that it had lost many strong descriptive words. But it provided a great jumping-off point. We took that first post, shortened it, and created a narrative, and we think the results speak for themselves…
A Sprinkle of Human Intelligence 
It's a day you've dreamed about since you were a little girl.
𝒀𝒐𝒖𝒓 𝒘𝒆𝒅𝒅𝒊𝒏𝒈. 💐
You've had it all planned out:
👰 The perfect dress
💐 Delicate flowers
💒 Location, location, location!
🍰 A deliciously decadent wedding cake
But, as an adult, you're finding that planning your perfect day, is well… 𝗦𝗧𝗥𝗘𝗦𝗦𝗙𝗨𝗟. 😖
There are deadlines, budgets, opinions, and 𝗦𝗢 𝗠𝗔𝗡𝗬 decisions to make!
This is 𝗡𝗢𝗧 how you imagined it would be… 😔
Shopping for your dream dress 𝘀𝗵𝗼𝘂𝗹𝗱𝗻'𝘁 be like this.
At our boutique, we believe you should 𝙚𝙣𝙟𝙤𝙮 the experience and that it should be everything you dreamed of and more! 
From the moment you step into our bridal boutique, we focus on 𝘆𝗼𝘂 and 𝘆𝗼𝘂𝗿 𝗵𝗼𝗽𝗲𝘀 and 𝗱𝗿𝗲𝗮𝗺𝘀 for your big day.
We'll make you look like a princess and feel like a queen in our dresses. 👸
Are you ready for the wedding dress experience you've always dreamed of?
Call us today to secure your appointment! We look forward to meeting you and helping you make your dreams come true! ✨
Learn a Little on LinkedIn
So AI provided a jumping-off point for a sales-based post but struggled with a conversational copy with the goal of converting.
For our next post, we decided to give it some serious training and create content with the goal of being informative instead of selling something. After all, isn't that what AI supposedly excels at – being cold, dry, and downright informative? 
Let's find out… 
The results were more or less the same. We can provide a screenshot of the absolute WALL of text we were initially greeted with. But let's be honest; nobody wants to read that!
 So, as we did before, we decided to ask ChatGPT to have mercy on our eyeballs. We asked very politely, of course: 
The results?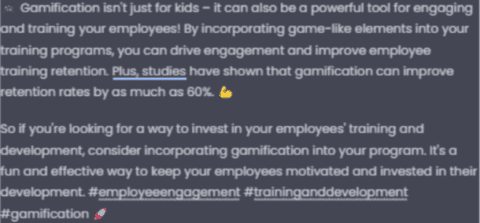 This was better. It was much, much better. But it was faaar from perfect. After reading that post, our team member working on this one experienced a flash of inspiration! And so, she applied some human intelligence by playing with the concepts presented and turning them on their head.
A Sprinkle of Human Intelligence 
🥕 𝑪𝒂𝒓𝒓𝒐𝒕 𝒐𝒓 𝒔𝒕𝒊𝒄𝒌?🥕
It's an age-old question: many of us were raised with 𝘀𝘁𝗶𝗰𝗸𝘀. You do your employee training and get it done right, or you 𝘥𝘰𝘯'𝘵 𝘩𝘢𝘷𝘦 𝘢 𝘫𝘰𝘣. But employers have found that Gen Z staff will 𝘄𝗮𝗹𝗸 𝗮𝘄𝗮𝘆 from employers who preach consequences over rewards. 
𝑺𝒐 𝒉𝒐𝒘 𝒄𝒂𝒏 𝒚𝒐𝒖, 𝒂𝒔 𝒂𝒏 𝒆𝒎𝒑𝒍𝒐𝒚𝒆𝒓, 𝒆𝒏𝒈𝒂𝒈𝒆 𝒕𝒉𝒆 𝒓𝒆𝒘𝒂𝒓𝒅 𝒔𝒚𝒔𝒕𝒆𝒎 𝒐𝒇 𝒕𝒉𝒆 𝒃𝒓𝒂𝒊𝒏 𝒅𝒖𝒓𝒊𝒏𝒈 𝒓𝒆𝒒𝒖𝒊𝒓𝒆𝒅 𝒕𝒓𝒂𝒊𝒏𝒊𝒏𝒈? 🤔
✨ 𝙶𝚊𝚖𝚒𝚏𝚒𝚌𝚊𝚝𝚒𝚘𝚗. 💫
Designing training programs that gamify the training experience and 𝗰𝗿𝗲𝗮𝘁𝗲 𝗮 𝘀𝗲𝗻𝘀𝗲 𝗼𝗳 𝗿𝗲𝘄𝗮𝗿𝗱 has proven far more effective than sitting employees in a room with an instructor, a notebook, and a highlighter. 
You can create long-lasting, company-wide change through point systems, ranking charts, and lessons that are designed to be engaging and informative. 
𝗟𝗲𝗮𝗿𝗻 𝗺𝗼𝗿𝗲: proskilllms.com
#employeetraining #onboarding #trainingandevelopment #management
Let's Change the Subject (Line)
Email subject lines might be one of the most important things copywriters write. No, we mean it. Write them well, and you've got gold. Write them poorly, and your well-crafted email messages don't get opened. Worse, you land in the dreaded SPAM box or get yourself a few unsubscribes. 
Would ChatGPT be up to the task of writing a subject line that you, dear readers, would find interesting enough to inspire clicks? 
At this point, you might be thinking, "are you nuts?! How is ChatGPT going to write a short and snappy subject line?" 
Let's find out what ChatGPT had to say about the matter: 
While we appreciate the fact that this imaginary finance coach wants us to build the life of our dreams, this subject line doesn't spark any curiosity. Let's go in a completely different direction… 
SizzleForce/Human Intelligence Rewrite: 
Subject: "Forget NFTs… THIS is the best investment you can make"
This subject line is so far away from the original intent–we honestly don't think ChatGPT could have ever come up with it. But it drives the same point across in a different way that is far from salesy. 
Tacos, Training, and Taglines – Oh MY!
Think about some of the most famous taglines throughout time: 
"There are some things money can't buy. For everything else, there's Mastercard."
"Better ingredients. Better pizza." (Domino's) 
"Because You're Worth It" (L'Oréal) 
What do these examples teach us? 
A good tagline or slogan for a brand should be concise, memorable, and capture the essence of what the brand stands for. It should also be timeless, meaning it remains relevant and effective even as the brand and its offerings evolve over time. Finally, a good tagline should be versatile and able to be used in various contexts and mediums, from social media ads to billboards, while maintaining its impact and effectiveness.
So we went to ChatGPT to see what it could do… could it meet all the criteria?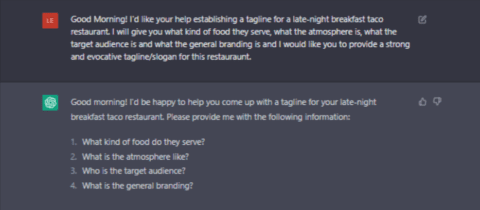 ChatGPT was like a great date. It asked many thought-provoking questions, as seen in the screenshot above. Here were our answers. Boy, did we give it a lot of training and background information on our fictional breakfast tacos joint: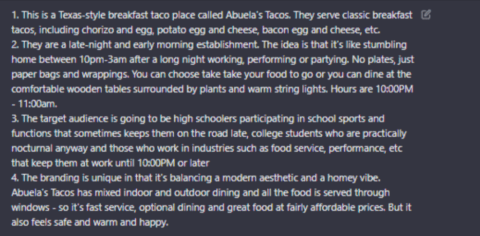 Here's what we got: 
We didn't hate these taglines. But none of them quite hit the spot. So our very own copywriter extraordinaire went to task… 
She thought about our collective childhoods, the shared experience of visiting our grandmother's house to find a sense of home and comfort. Most of us know that feeling of being greeted with our favorite dish–whether that dish be chicken noodle soup or warm tortillas packed with delicious fillings, it doesn't matter. What matters is that feeling of all-encompassing love.  
But how to convey that same feeling in a tagline?  
And then, it hit her… 
Leanne's rewrite:
Breakfast is always waiting at Abuela's 
So where do we go from here? 
It is no secret that AI is taking over the biz world, from customer service to supply chain management. Don't get left in the digital dust! Learn about our favorite AI Tools (that aren't ChatGPT). Choose a couple you see a ton of value in, and then dig in and start learning!