Did you know that there is an entire Instagram page dedicated to sharing pictures of sad chairs?"
This one in particular is a whole mood. 
The Instagram page "sadchairs" ceased to be active in 2020, but the fact that it existed in the first place proves something:
Human beings will empathize with anything.
It happens to all of us. We'll call an old shack in an overgrown field "sad", compare mountains to "old men" and describe the wind as being "angry". We use personification on objects, concepts, animals, and, yes, businesses.
This emotional connection is what we use to build a brand. It also creates customer and brand loyalty. It's like a kind of secret magic that any marketing team can tap into with the right tools and knowledge. Take, for example, Choco Taco…
Once An Ice Cream Sandwich – Now a Tragic Underdog
Ice cream lovers across the country were shocked and horrified to learn that the dessert known as Choco Taco would be discontinued. At the prospect of walking passed an empty shelf where their favorite sweet treat used to be, people flocked to social media. Choco Taco was suddenly trending, and even celebrities were getting in on the action:
Chrissy Tiegen (in an excellent example of personification) sent out a tweet that ended with the words "U don't deserve him!!!". 
The disappointment was palpable! So this put Klondike in a tight spot: how would they deal with the sudden surge of devastated customers and maintain brand loyalty? 
Well, by confronting the issue directly, of course. 
Deliciously Fun Marketing Lessons We Learned From the Choco Taco Crisis
Listen to Your Customers… and
Respond
In Kind
In a brilliant move, the marketing team at Klondike decided to confront the sad tweets and emotional concerns of their existing customers. At first, they did this by sending responses to questions regarding the announcement and confirming their reason for doing so.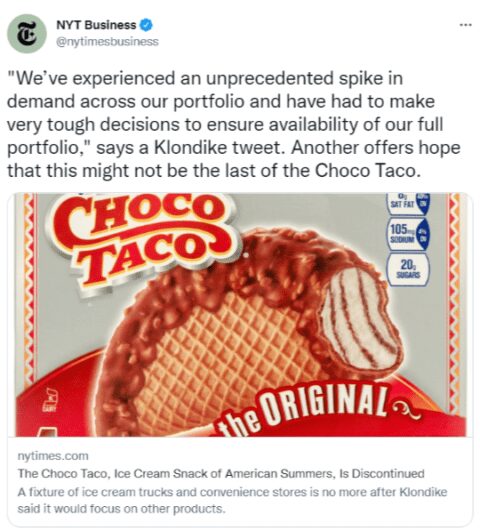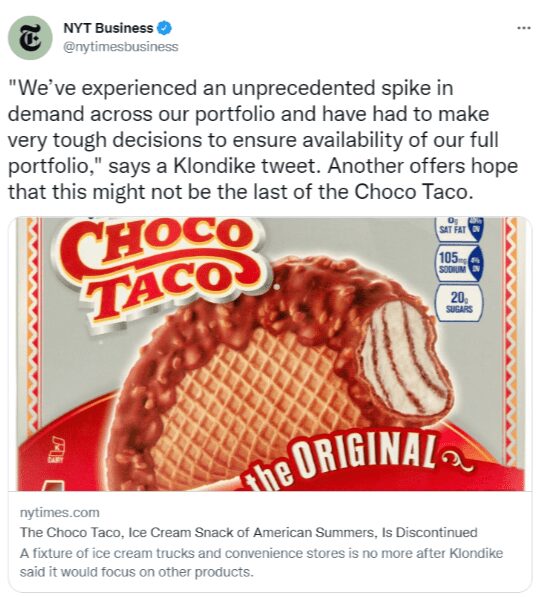 Then, the marketing team got clever. They realized that the product they were pulling had a surprising amount of customer loyalty and had gained a lot of attention. People were going so far as to ask that the remaining ice cream be sent directly to their houses. Klondike took that attention and used it. 
People wanted to know what was going to happen to the ice creams that were left. So they asked twitter what they should do with the remaining 912 Choco Tacos in the world. Now, what was an announcement that a product was being discontinued had suddenly become an opportunity to build a relationship with their customers.
 Mainly, customers were requesting that the remaining tacos be given directly to them. For example, @mafialifefranci, who true to his own brand suggested an exchange that reads like something out of a Scorsese movie:
"Ok, this is how it's going to go down you going to meet me under the Brooklyn bridge at exactly 12:45 a.m. I'm going to pass you this box of Klondikes you'll pass me the "tacos" we'll both slowly back away and disappear into the night."
Other loyal customers decided this was the time to seek justice. James Olson came out for blood with his suggestion:  "Have the person who decided to discontinue Choco tacos go on a live stream and eat all those 912 Choco Tacos as punishment for getting rid of them".
 But our personal favorite was probably Kari Janavitz whose suggested solution came with a neat graphic and the words "Four words – Choco Taco the Musical. Everyone in the audience gets one of the last Chaco Tacos at intermission."
By requesting suggestions, Klondike created an excellent opportunity to engage with their customers on social media and improve their overall customer experience. But that wasn't the only strategy that we saw at play on their Twitter…
You Have to Be Able to Laugh At Yourself
Customer and brand loyalty isn't just about having a good product and service; it's also about public image and performance.  On any public stage, getting the audience (or customers) on your side is key. Humor can be a difficult tactic, but if done right it can be the perfect approach.
 For example, we have a team member who likes to do stand-up in her spare time. Her first ever time on stage at an open mic night, she slipped and fell – HARD. The audience let out an "OOF" as the resounding thud filled the room. What do you do when you slip up in front of a room full of people expectantly watching you? We'll tell you what she did:
She immediately jumped up, seized the mic, and cracked a joke about how at least it couldn't get any worse. From that moment on, the audience was on her side. 
Klondike did something very similar on July 28th when they released this tweet: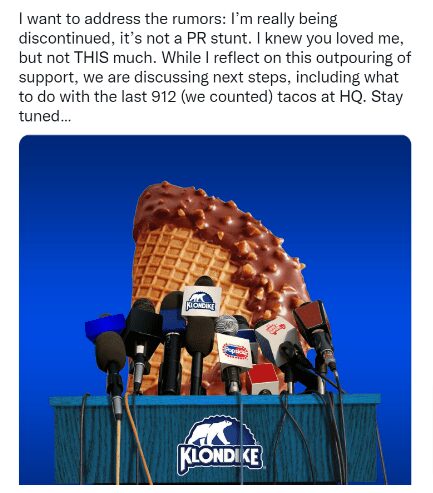 There is so much that is awesome about this tweet. Let's break it down:
They successfully:
Address the claim that the removal of Choco Taco was a publicity stunt

Address that Klondike was not expecting the reaction

Bring attention to a different campaign that they've been working on

Do so by personifying the Choco Taco – leaning into what their customers are

already

doing
Addressing situations like this can be a messy and difficult process, but they took the time to admit that they hadn't realized just how much people loved their product. They didn't try to ignore that mistake: they acknowledged it. 
You Can Only Control How You React
The biggest challenge of building and maintaining brand loyalty is how much of it you can't control. Klondike knew this move would be disappointing, and they prepared their team for that. 
With a strong marketing team and strong marketing strategies, you may have a strong idea of how your clients feel and will react to a change that affects them. But people are unpredictable. They make Instagram accounts about sad chairs and becomes despondent when their favorite ice cream is no longer available. 
The number one thing to remember is that you cannot control how your customers react to you: you can only understand them and control how you handle your response. 
Do you find yourself struggling with building and maintaining your brand? Do you already have a brand in place, but are unsure how to get started with your marketing strategy? We get it. That's why we designed this quiz, which will allow you to better understand how to improve your marketing plan and grow your business. Take our quiz now!