Welcome to the Marketing Minute, a carefully curated rundown of our favorite things sizzle-worthy in marketing news.  Check out the marketing trends and headlines that made our heads turn this past month… 
In this edition: 
Why Kwik Trip has been proclaimed the Disneyland of the Mid-West. 

Too many discounts!

Our new obsession with Oreos 

Smart Carts, coming to a grocery store near you… 

When luxury car shopping is lame not luxe

There's something punny going on with the Dodger's Instagram account… 
Gas Stations Worth Following
Our Social Media Marketer, Alyssa, lives in Wisconsin and brought a local example to share with the class. Kwik Trip is a chain of gas stations in the Midwest, and their social media marketing department is killing it. 
Their Instagram account is sprinkled with hilarious memes brilliantly tailored to marketing their specials, merchandise and sweepstakes. Their meme-game is top-notch, as they always stay on top of the trends (with the Kwik Trip personality). They also aren't afraid to take humorous, tongue-in-cheek swipes at their competitors.
But what is really the secret to the account? Alyssa believes that it all boils down to humor. They aren't afraid to poke fun at themselves, "Wisconsinisms" or "Midwesternisms" which makes them a lot more relatable and accessible compared to other marketing campaigns.
Another brilliant aspect of their social media marketing campaign is partnering with local talent, such as comedian Charlie Berens, and local companies, like Leinenkugel's beer.
Gas stations aren't exactly the kind of thing you think about in terms of influencers. But Kwik Trip set itself apart. And the result? 
Their customers love them. They even have wedding photos taken in front of them. Prom photos. It's a whole thing. 
Locals clearly consider them a part of the Wisconsin family. 
And as they happily proclaim themselves: Kwik Trip is the Disney of the Midwest. 
Dare we say… The Happiest Gas Station on Earth!?!?
Takeaways: If you take what you sell at face value, it might not seem like it has personality. But you can make anything full of personality–even a gas station. So if you think your product or service is boring or mundane, think again. 
And don't forget–poking fun at yourself (and your audience) can be a good thing. It can even inspire a sense of community–everyone loves a good inside joke. 
Too Many Discounts
We're big fans of running limited-time deals as a way to motivate your audience to take quick action. But running *too many* deals can end up working against you. If you run a different deal every month (or every 2 weeks or every other month), you train your audience to expect a discount.
Case in point: we recently purchased a second license for an SEO tool we LOVE and honestly would happily pay full price for. But they send out emails every couple weeks with a different deal, so instead of paying full price on the day we decided to purchase, we waited until they shared a discount code, and then we purchased at a lower rate. 
Did you catch that? 
They trained us to expect a discount, so we were unwilling to pay full price for a tool that is 100% worth the price, and that we would have otherwise happily paid full price for.
Takeaways: Your customers might happily pay full price for your product or service–unless you've got them trained to think that if they wait long enough they can pay less (we're looking at you Groupon). So how can you know when you are doing discounts TOO much? There isn't a hard number–it depends on your industry and your audience. Make data-based decisions–when people stop buying at full price, it might be time to throw out a discount offer. Emphasis on might be. 
Customizable Oreos
We, like most people, love Oreos. They're milk's favorite cookie after all…
But today we learned something unexpected about ourselves. 
Today we learned just how far we're willing to go for the chocolate cookie.
Today we learned we would totally spend $3 for a single Oreo.
Now, we wouldn't do that for any old Oreo cookie…but for totally customized, fudge-covered Oreo cookies with the SizzleForce logo on them we 100% WOULD.
Designing custom Oreos turns out to be so much fun that our team spent an entire 10 minutes doing it together, strategizing the color of the sprinkles and which image to put on it (if you haven't met our mascot, Elvis the Elephant, see below). 
Oreo has tapped into a trend that isn't going anywhere anytime soon–at least, not for the SizzleForce Team.
(Be honest… you're about to order some for yourself right now, aren't you…) 
Takeaways: As we detailed in a recent blog, personalization is EVERYTHING. People will pay 20x more for something that is customized for them. 
Smart Carts… Coming To A Store Near You? 
When it comes to shopping, one of the keys to marketing is to remove as many obstacles to purchase as possible. This is as true for grocery stores as it is for anyone else. 
Enter: Smart carts. 
It turns out that folks aren't such big fans of those self-checkout systems (perhaps it is because they are constantly yelling at you and commanding you to PLACE YOUR ITEMS IN THE BAGGING AREA).
What if you could just place your item in the cart, leave it there, and have a screen magically tabulate everything–not only calculating your total costs thus far but a rundown of the items you've added? 
Well, this isn't just an idea from a science-fiction movie. Grocery stores across the country are testing this idea out. 
Check it out: 
Takeaways: Ask yourself what the obstacles to buy are for your customers–especially when it comes to getting things in the figurative "cart." Make it as easy as possible to get them to the purchase finish line. 
Luxury Car Shopping
One of our team members and her husband were on the hunt for a new car recently–a luxury car no less. This was a first for them, so they asked friends to tell them what to buy. They told them to shop for a Jaguar. 
They were expecting an experience that was RAWRRRR. 
They got more of a whimper and a hiss. 
The luxury car shopping experience turned out to be far less than they'd hoped for. When they walked into the Jaguar dealership, "The arrogance was contagious in the grossest way," they said. "We felt like we were re-living that 'Pretty Woman' scene. It was like they looked us up and down and decided we didn't belong there." 
When they asked to test drive one of the cars, the salesperson took an entire 20 minutes to get the keys. By then, they were, well, over it. So much so, that they'd left the lot to go to another dealership. 
They visited the Toyota dealership next. While they didn't encounter the snobbery there, they did encounter something equally disappointing—a gigantic showroom filled with a few cars, about 15 "Walmart-esque" folding tables and chairs and virtually no one who seemed interested in assisting them. After about 10 minutes of looking around, the person who finally showed up to assist them looked like he rolled out of bed about 5 minutes before he showed up at work. And despite the fact that the car had been sitting on the lot for several months, he was unable to answer any questions they had about it.  
Next, they visited the nearby BMW dealership. The well-lit and modern-designed showroom was filled with premium cars that showcased the best BMW has to offer. They were promptly greeted by a well-dressed and groomed sales rep. Next, they were invited to have a seat in fine leather chairs and enjoy an espresso while the sales rep learned what they were looking for in their next car. He knew the answer to every question they asked and made certain they knew they weren't just going to buy the ultimate driving machine, they were going to enjoy the ultimate car buying experience. 
Takeaways: Customer service and attention to detail matters. Those who pay attention to the little things get rewarded with big sales.
There's something punny going on with the Dodgers… 
They love to play with puns on the Dodger's Instagram page. 
Puns are their thing. And they do it every day, bringing a bit of cheer and laughter into their followers' lives. 
They take no prisoners either. Check out this roast of Yu for going to Padres: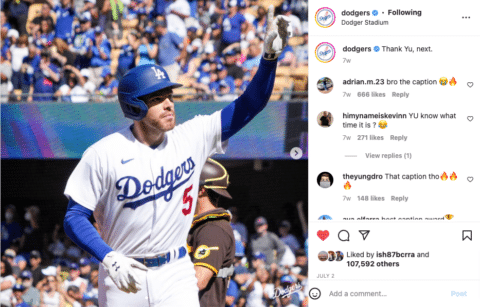 Takeaways: Puns are amazing. That is all. 
Have these marketing campaigns inspired you to ramp up your own marketing game? If you are not sure where to start or where to put your energy when it comes to marketing, this free quiz can help.