You already know that social media is a critical part of your overall marketing strategy. But it can be overwhelming. 
A lot of clients come to us for help with social media management. One of our first questions is, "When's the last time you posted on your Facebook page?" They stare at us with blank eyes. Sure, they might have created a Facebook page for their business a long time ago. But they considered it a one-and-done deal. Wasn't just putting it on Facebook in the first place enough? 
The answer to that question is no. 
The truth is, keeping up with your Facebook page can be difficult. But it can be incredibly important to your brand. If people click on your Facebook page before they click on your website, and they see you haven't posted in 5 years, they might not take your business as seriously. Especially if your last post featured Fido or your kids eating spaghetti.
But you have enough to do. It can be hard to come up with Facebook post ideas, much less do the actual posting. That's why we are here to help get your creative juices flowing. We've scoured the Facebook Business Pages of some of the world's biggest brands (including Facebook itself). We're talking Starbucks,  Coca-Cola, Converse, and H&M, and more to see what they are doing on their social media feeds so you can learn from the marketing greats. We've done the homework, and we've discovered finding the best Facebook post ideas can be a fun thing. We promise! So let's get started. 
Facebook Post Ideas
You Should Use Now
1. Celebrate history.
Finding incredible moments in history that resonate with your audience can be a fantastic Facebook post idea. You can check out "On This Day" calendars for ideas, or just research your favorite topics yourself!
2. Play with color. 
If you have a wide array of color selections in your product line-up, play with them. Line up all your red tank tops and take a photo. Light up all your pink candles and share an image of them lighting up a drab room. Play with colors and hues and make your Facebook post ideas vibrant with colorful statements. 
3.Celebrate birthdays. 
From the birthdays of your favorite icons or even behind-the-scenes birthday celebrations of management and staff, birthday celebrations are a great Facebook post idea. Everyone loves to be included in a happy day's festivities. 
4. Don't forget holidays and national celebrations. 
From the 4th of July to National Ice Cream Day, there are tons of Facebook post ideas you can get just from looking at a calendar. Find ones that resonate with your brand and your target audience, and design a few posts around them. 
5. Use fun facts to inspire curiosity. 
From rare jelly bean flavors to bizarre animals, we all love a good dose of fascinating trivia. Feed your fans' curiosity with fun facts that align with your branding and show you love a juicy piece of useless knowledge as much as anyone. 
6. Ask a question. 
Here's a super easy Facebook post idea. Ask your fans a question, giving them a direct reason to respond and engage with you! Make sure your questions are relevant to your audience, though!
7. Spotlight customer stories. 
Did one of your customers use your product in a unique way? Do they have a unique story to share? Spotlight it! Not only does this show off your product or service, but it gives your customer a bit of extra love and attention too. This Facebook post idea is a win-win if you ask us. 
8. Inspire with your words. 
Use your Facebook Page to be a source of inspiration and encouragement for your fans. Share positive things that happen in your store or community, and #seethegood. 
9. Spotlight your favorite charity. 
This is similar to the above but more focused. Does your business have a favorite charity or non-profit it supports? Make sure to post about your brand's involvement. But your support can also be in the form of posting regularly about their efforts, for example, inviting your customers to community events or virtual events they might be hosting. It can be a fantastic way to spread love and focus on the positive. Remember to think about your audience and how frequently you can post about your non-profit efforts. 
10. Host a Facebook Live post. 
Post a Facebook Live post and let your audience in on what's going on in your day. Just remember to give it a purpose, whether that purpose is informing your fans about something going on with your business or showing your brand personality. 
11. Remind your fans how your product or service can help them. 
Not every single Facebook post idea is elaborate or complicated. Just a word or two that reminds your audience how your product or service solves their problem and helps them conquer their day works.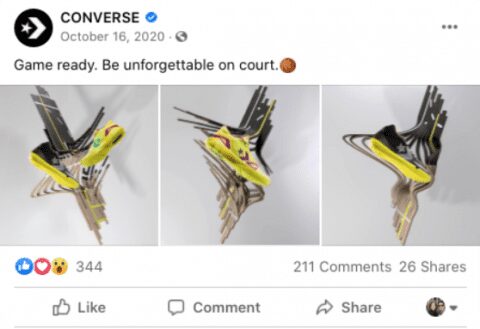 12. Offer tips. 
Offering valuable tips and advice that are relevant to your brand and your audience can be a great way to add value to your Facebook page. 
13. Tie your Facebook post into the weather that day. 
We all agree on the weather (well, mostly). Perhaps that's why a lot of Facebook post ideas center around some sort of weather mentions. Is it cold outside? Invite your customers in for a hot chai the way Starbucks did. Or a cozy sweater. Or a hot meal. Or a wine tasting. Or whatever it is you sell. Hot outside? Try refreshing ice cream. Or ice tea. Or one of your athletic tank tops they can hit the jogging track in. You get the idea. 
14. Focus on one. Single. Feature. 
It is easy to focus on every single feature your product offers in one post (you want to tell your fans EVERYTHING wonderful about your product, right?), but focusing on one thing at a time can be a great way to build your brand and generate new content. Take Starbucks, for example. Many of their posts focus on a single ingredient, from honey to almond milk to caramel drizzle to hibiscus. Samsung focuses on specific TV screens in inches. How can you hone in on the details of what you sell? This is the Facebook post idea that truly keeps on giving. 
15. Ask for advice. 
Here's a super simple Facebook post idea. Ask your customers for advice about something tied to your brand. Then share it and laugh together, like Starbucks did in this post: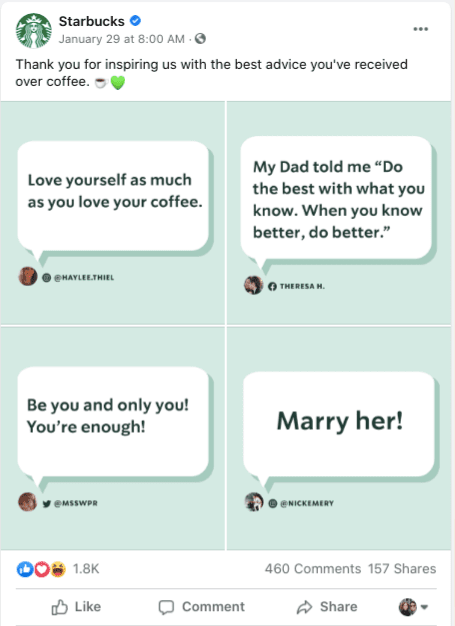 16. Show a behind-the-scenes glimpse of your business. 
Boost your brand personality by showing the behind-the-scenes moments, from daily chats at the water cooler to the puppy that sits on your keyboard in your virtual office. 
17. Spotlight a worker. 
Have an employee that has an interesting story or something cool to share? Just want to showcase their incredible work? Show them in action. 
18. Highlight your product in use. 
Can your product be used in more ways than one? Take photos of it in varying applications and tap into a treasure trove of Facebook post ideas!
19. Share your core values. 
What are your company's core values? If you have a mission statement, Facebook is a great place to share it (or snippets of it over time). 
20. De-construct how your product is made. 
This Facebook post idea can be especially powerful if your product has impeccable design, artisan flair, or craftsmanship. Show off the process that goes into making it one step at a time. Use varying photos and angles and text, and you can make tons of content from this one idea! 
21. Re-post from other accounts (especially if they mention you)!
Monitoring social media to find mentions of your brand can be incredibly informative. Did you find something nice someone said about you? Share it! Social proof is one of the most powerful marketing tools you can harness. 
22. Play with current trends. 
From Tiger King to sourdough bread to watch parties, 2020 certainly had its trends, and so does every year. Show you are in touch with the world at large and find creative ways to tie your personality and brand in with current conversations and trends. 
23. Create a shareable infographic. 
Have a lot of information to share? From statistics about your industry to your top-selling products, create an infographic that gives all the information in a snapshot. Not a graphic designer? You can find a freelancer to do it for you on Fiverr.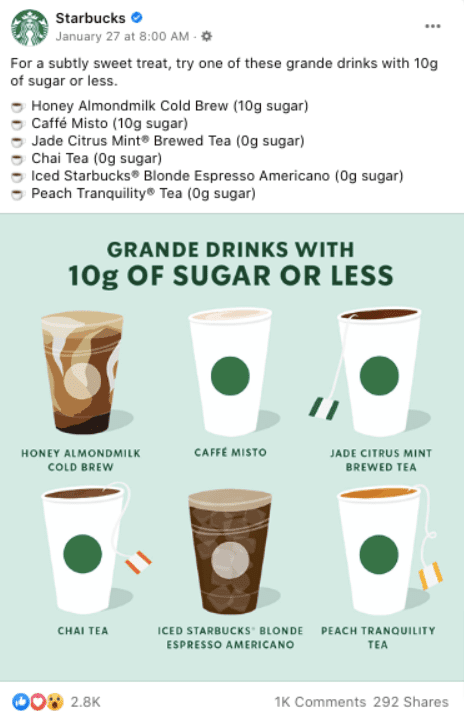 24. Show gratitude. 
Saying "thank you" for just about anything is always a great Facebook post idea. Thank your local postman, your customers, your loyal fans, your family. You get the idea. 
25. Inspire gift ideas. 
Your customer might not be shopping for themselves. Remind them why they might want to purchase your product or service for a friend or other loved one. 
26. Explain a functionality. 
Does your service or product have a feature people don't know how to use? Use your Facebook posts to explain a cool feature, one at a time. 
27.
Ask your audience for questions. 
Ask your audience to ask you anything. Then…
28. Follow-up with an FAQ post. 
Use the questions your audience asked to create a series of FAQ posts. Or, create long-form content as a video where you answer all the questions at once!
29. Show your brand mission. 
Does your company have a story to tell? An origin story? Share it on Facebook. 
30. Tie-in to seasonal events. 
Yes, holiday seasons are an obvious choice for finding Facebook post ideas. But what about other significant events in the year? Think of graduations, proms, and the Super Bowl. 
31. Run contests or giveaways. 
Contests and giveaways are a sure-fire way to get people not only excited about your content but sharing it. 
32. Share what's on your mind. 
So much of your Facebook Page feed can feel like a sales pitch. Including your authentic thoughts, observations, and anecdotes from your day or week can be a great way to show personality. 
33. Post a selfie. 
You don't have to be a famous influencer to post a selfie on Instagram. Post a selfie of you shipping your very first newly released product. Or your new line-up of a product in a new color. Get creative! Just make sure your image includes your brand somehow; otherwise, this Facebook post idea can end up seeming a bit off-brand. 
34. Ask for feedback. 
Here's an unexpected Facebook post idea. Take a page out of Coca-Cola's book and ask what your customers think about your latest business ideas. 

35. Post simple images. 
Gorgeous photos of your product can say 1000 words.
36. Create a poll or quiz. 
Polls and quizzes are a great Facebook post idea because they give you a way to interact with your audience and learn more about them! Just be mindful of your users, and don't ask for anything that might be considered sensitive and/or personal data. 
37. Highlight collaborations. 
Do you have a specific vendor you love to work with? A provider who is both your bestie and a trusted partner in your business? Give their business a shout-out on your page and share the love!
38. Announce sales. 
Use Facebook to announce special sales or promotions going on with your business. 
39. Give sneak peeks. 
This Facebook post idea helps your fans feel like they are in on something secret. Give them an insider's look at your business by giving them first dibs on the latest news, upcoming releases, and new product features. 
40. Spotlight eco-efforts. 
Statistics show that going green can boost your sales. If you are working on using more sustainable materials or lowering environmental impact in other ways, be sure to post about it on Facebook!
41. Share blog posts. 
You probably already know that blog posts are one of the best ways to not only increase your internet traffic and visibility but to establish you as a brand authority. Make sure you make the most of any blog post by posting it on Facebook! You can even post several times; just make sure you switch up the captions enough to offer different value each time. 
42. Change your profile/cover image. 
Ok, this isn't technically a Facebook post idea, but we couldn't leave it off the list! Changing your cover image and profile image is a fantastic way to keep your business page looking fresh, updated, and to highlight specific offers or events. Just make sure whatever you use for these images is on-brand. 
Use these
Facebook Post Ideas
and Watch Your Engagement Grow
That's it! That's our list of the best Facebook post ideas you can use right now. This list is by no means exhaustive, but by now, you should have a pretty big list of strategies you can use for your own Facebook Business Page. 
Managing social media can feel like a daunting task. If you have the ideas for content but need help writing and scheduling them, we can help! We offer social media copywriting and planning services. You bring your favorite ideas (and we'll bring ours too), and together we will grow your brand on Facebook, Instagram, and beyond.