Want a free way to rapidly grow brand awareness, position yourself as an expert, and get more eyeballs on your offers? 
Meet your new BFF: LinkedIn video marketing. 
In 2019, LinkedIn experienced a resurgence in popularity for brands hoping to build awareness. At the same time, LinkedIn became the most successful channel for video marketers, with 87% of users describing video marketing on LinkedIn as an effective tactic.
If you're not using video marketing on LinkedIn, you're missing out on a huge opportunity. 
We all know video marketing is hot. But LinkedIn videos are hotter than hot…these babies are on fire!  
The best part? Creating and publishing videos on this professional platform is way easier than you may think it is. 
7 Tips You Need To Know For Video Marketing on LinkedIn
1. You don't need to buy fancy equipment
Microphones and fancy lights are great and they absolutely have their place in the video marketing world. But for video marketing on LinkedIn, they're simply not necessary. In most cases, the phone, tablet, laptop or desktop you use to browse the internet is all you need to make great marketing videos on LinkedIn.
Remember, you're not trying to win an Academy Award. You're creating LinkedIn videos to position yourself as an expert, grow brand awareness and occasionally make an offer. That doesn't require professional equipment. 
Listen up, perfectionists (you know who you are): Your motto for these videos needs to be, "good enough." If you park your train on the perfectionist track you will waste hours of valuable working time. And chances are, you'll also miss your opportunity to contribute to hot topics because you said "um" in the video or maybe you had a hair out of place. Seriously, let it go and get your videos up and working for you.
While I really believe you don't need to make any investments in this, if you really, really want to, here's what I suggest:

An

inexpensive lavalier microphone like this

will ensure your sound is crystal clear.

A tripod like this

will be helpful if you plan to use your phone or tablet to record. You'd be surprised how quickly your arm will get tired from holding your device up while filming!  Plus, it keeps your camera steady so you don't make all of your readers queasy. 
Save the super expensive, fancy equipment for the professionals (and that time in your life when you really DO want to win an Academy Award.) 
2. You don't need to be Anderson Cooper or Sean Hannity to create great videos 
LinkedIn video is the perfect way to connect with a professional audience on a personal level. Give them a glimpse of the real you. Let them see your human side. Makeup imperfect? Good. You look real. Stumble over a word or two? Chances are, no one will notice except for you. 
The best marketing videos on LinkedIn are the real ones. The more you show up as your authentic self–the person who is really passionate about what they do and the community they serve–the more people will want to engage with what you put out there. 
Of course, this isn't a license to be sloppy or lazy. It's important to wear clean clothes and brush your hair and teeth (but duh…you know that). Just don't get sucked into the lie that you have to be as polished as Anderson and Sean. You don't.
3. Making a list of potential topics is easy peasy
A lot of people say they don't do videos because they have nothing to talk about. We're going to crush that excuse right now. 
Creating content for LinkedIn is easy peasy with a little thought and a couple of powerful tools. To start, we recommend creating one video to answer each frequently asked question you field.  Once you've done that, make a list of hot topics in your industry right now that you can contribute to. For example, I'm writing this blog the day after Governor Newsom has ordered 40 million California residents to stay home to prevent the spread of the Coronavirus.  Many of my clients speak to promote their business and all speaking engagements have been canceled. They need new, effective ways to grow brand awareness, position themselves as experts and make offers right now and LinkedIn videos are a great way to do just that. That's why I wrote this blog post. You can (and should) do the same thing. 
Once you've covered FAQ's and trending topics, you can source additional ideas by using tools like:
Answer The Public, which, as they so eloquently say, "listens into autocomplete data from search engines like Google then quickly cranks out every useful phrase and question people are asking around your keyword.  It's a goldmine of consumer insight you can use to create fresh, ultra-useful content, products and services. The kind your customers really want." There is a free and paid version of AnswerThePublic.
Topic Detective, which helps you find powerful content ideas your audience wants to read, in less than 5 minutes by tapping into thousands of questions being asked about your product or service every hour by real people!  Topic Detective offers a free 7-day trial which you can get here. (Side note, Topic Detective was created by a friend of mine. She's a small biz owner who, just like the rest of us, is doing what she knows how to do best to provide for her family. If there was ever a time to support small business owners, it's now. In other words, this is a small investment that will really help you while providing for a mom and her kids. As far as I'm concerned, that's a win/win if I've ever seen one. Watch this video about the product to learn more.)
I use both of these tools allllll the time and LOVE them. (Note: the link to Topic Detective is an affiliate link which means I will be paid a teeny tiny bit of cash if you choose to use it. Rest assured, I only share products I personally use and trust.)
4. It's a good idea to ditch the script
Go back to number 2 if you need a reminder. Your audience wants to get to know YOU. The real you, not the perfectly polished and poised you that you present at events or on your website.
If you need notes to remind you of your talking points, write down some bullet points to jog your memory. Then tape it up where you can see it without looking down and record your video all the way through. The truth is, you'll might stumble over your words, or skip words entirely. You'll may feel very awkward in front of the camera, especially if this is your first venture into video marketing on LinkedIn.  It's ok. Do it anyhow. After you get a few of these under your belt, they won't be nearly as difficult.
Record the video all the way through, then go back and watch it. If you think it's a complete failure, send the video to a close friend, partner or colleague and ask them if they think it's good enough to post. If they say it is, trust them and publish it. Remember, we're aiming for "good enough", not perfect. If you must re-record, do so once. And only once. If you allow yourself more than that, you'll end up in analysis paralysis and you'll never get anything posted.
If the idea of recording without a script overwhelms you so much that you simply won't do it, get PromptSmart. These tele-prompter software follows the speed of your voice and makes you sound like a pro. Check out the 7-day free trial of this awesome tool.
5. Recording in advance is a smart move
Setting aside 10-20 minutes every morning might work for you. However, you may find it easier to set aside a full hour every Monday to record the entire week's worth of videos. This allows you to still get content out even if you have to take an emergency call with a client on a Wednesday morning, or if you just want a few extra minutes of sleep that morning 😉
Recording your videos in advance allows you to "set it and forget it". Schedule your posts in advance so you can focus your energy on the things you really love doing (and get paid for!)
6. Short videos always win on LinkedIn
The top-performing videos on LinkedIn are 45-90 seconds on average. Do not, I repeat, do not create 30-minute long training videos where you break down every detail of what you do and why you do it. They won't be watched.  If there's a larger topic you really want to address, you can split it into a full week's worth of videos to make sure your audience gets what they really need, without being forced to listen to an overwhelmingly long video.
7. Captions are a must
Captions are absolutely vital if you hope to succeed in using video marketing on LinkedIn. LinkedIn's algorithm crawls your hashtags, the content of your post, and the captions of your videos to determine how relevant your content is to your audience and how highly they should place your posts in your followers' feeds.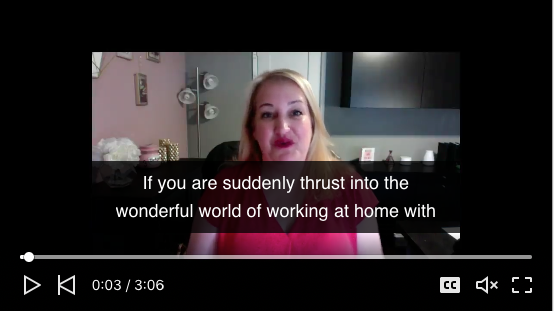 Adding captions to LinkedIn videos is unfortunately not as easy as the built-in auto-captions feature available on YouTube and Facebook. That said, here's a step-by-step guide for adding captions to your LinkedIn videos:
First, you'll need to download the desktop version of Descript. The web app only allows you to transcribe an audio file, but the desktop version allows you to transcribe videos as well. They have a free option which should be plenty, but if your monthly needs exceed their limit, they also offer very reasonable pricing for their higher-level packages. 
Once you've downloaded the desktop app, upload your video to Descript and transcribe. There are several steps required:
Press the blue "New Project" button.
Click "Choose a file" and select the video you want to be transcribed or simply drag the video file into the box.
Click where it says "Untitled Project" on the top left to add a title for your project.
On the bottom left, make sure it's set to Automatic, then click Transcribe. The auto transcription should only take a few minutes.
On the top left where it says "Edit Media", change to "Correct Text"
Listen through your video and review the captions to make sure the sentence breaks are correct, there are no mistakes, and to remove any "um" "uh" and other filler words.
Click Export on the top right and export as Subtitles/Captions
Next, it's time to upload video and captions to LinkedIn:
From your LinkedIn homepage, click the video icon for a new post.

Select the video you want to upload

Once the video is added to the post, click Edit

Click Select File under "Video Caption File"

Click save

Type whatever you want your post to say, add hashtags (maximum of 3 hashtags), then post.
If you want to get in front of your audience (and stay there), you need to be using LinkedIn videos. If your goal is to position yourself as the go-to expert in your industry, you need to be using LinkedIn videos. And if you want your audience to feel more connected with you so that when they're ready to purchase, they come to you, you need to be using LinkedIn videos. Capiche? 
By the way, if we're not already connected on LinkedIn, please send me a request. I regularly share must-know marketing tips, tools, and strategies in my own LinkedIn videos.