As we wrap up the summer of 2018, the San Diego copywriting and brand strategy team at SizzleForce Marketing is looking back on this past quarter with a whole lotta gratitude.
Hi, I'm Amanda. I'm the Operations Director at SizzleForce Marketing. While most of the time I'm behind the scenes (or in this case, behind the screen) making everything work seamlessly for our copywriting and brand strategy clients, today I've been tasked with a new job: to write a blog post. I'm told it needs to include insights on what's working now in marketing, suggestions for apps and tools you need to try, a sizzling client spotlight and some other deets you need to know. Let's get started.
Mixing Business With Personal
If there's one thing I know about my boss Stephanie, the CEO of SizzleForce Marketing and my favorite San Diego Copywriter, it's this: she firmly believes personal relationships are the root of every good thing in business. That's why she's never been one to subscribe to the thought of it being wrong to mix business with personal.
That being the case, before I share more about what's working now in marketing, I'd like to share a little business update on our end as well as a little update about what's been happening in the personal realm this summer.
In addition to building brand strategies and writing copy that positions our clients as the absolutely unforgettable experts they really are, Stephanie's book, Absolutely Unforgettable: The Entrepreneur's Guide To Creating A Heart-Centered Brand And Standing Out In A Noisy World, hit the bestseller list in three countries! We know a lot of our readers bought the book. If you were one of them, THANK YOU! We couldn't have done it without you!
Along with getting Stephanie's first book published, we were featured in the press multiple times. Stephanie starting speaking at live events, on podcasts and in livestreams again. We met tons of entrepreneurial game changers when we sponsored a major business-building event for CEOs in August. And yes, we did all of this while Stephanie's kids were home on summer break. [Cue: superhero music].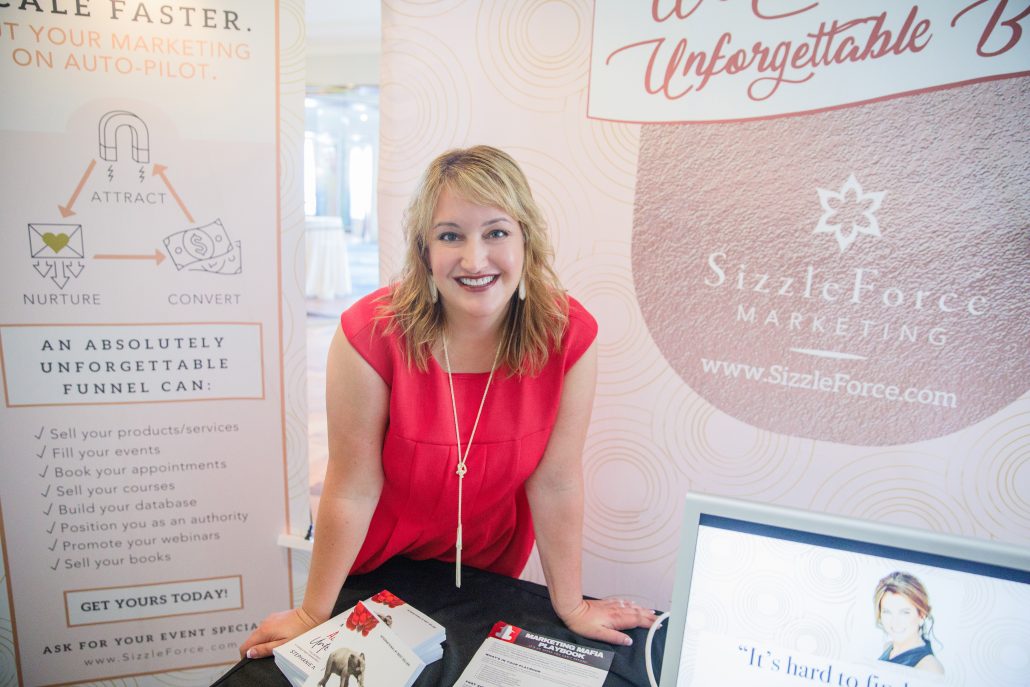 As you may have heard, Stephanie's 20-year-old son passed away in April. And as you might imagine, the family went through a season of deep grief. The good news? Something very special happened in July. Something woke Steph up in the middle of the night. After a few very difficult months of questioning why God had allowed her son to die, she had what she's started calling "an infusion from God." After many tearful days, God began to reveal the purpose behind the pain her family had experienced; and in doing so, a new vision that will take all of Steph's copywriting and speaking experience to an entirely new level. She's not telling us any more than that at this point, but we sense something big is brewing with our favorite San Diego Copywriter, so we'll all just have to wait and see! For now, we're excited something new is cooking and that the most painful part of the grieving process has passed.
As for me, well, my summer was filled with much-needed downtime and a whole lot of fun — I even got to have my niece and nephew come stay with me for a few days and surprised them with a trip to Legoland! But the best part of my summer came in the form of a call from my twin sister Samantha, who told me I'm going to be an aunt for the third time come March!
What's Working Now
About 6 months ago we realized it was time to do something different when it came to following up with our copywriting and brand strategy leads. We needed a way to connect in a timely manner that was highly-personal and unlikely to get stopped by gatekeepers and SPAM filters.
Enter, video texts: 30-second videos recorded from our phones that we texted directly to the people we wanted to continue conversations with.
Even though Stephanie loves words as a San Diego Copywriter, she knew our text messages needed to be simple, very casual and conversational—just like how we show up in real life. That being the case, we didn't use any expensive lighting, but we did make sure the videos were well-lit thanks to a good, old-fashioned window. We didn't do hair and makeup (well, okay, maybe Stephanie put lipstick on, but that's all). And we didn't write a script; we simply shared a heartfelt message that communicated gratitude for the conversation we'd had and a desire to continue the conversation moving forward. Finally, we didn't allow ourselves to obsess over the videos. Were they Hollywood perfect? Not even close. Were they "good enough"? Well considering the results of our video texting campaigns have been astounding, we'd say so! So many of the recipients of our messages are responding within minutes sending their own messages via video text!  And voila—the conversations have continued!
You know what they say: "the fortune is in the follow-up." Video text follow-up messages are fast, easy, and highly effective. And they're free! Just look at this actual conversation we had with a new contact via text!
It's your turn! Who can you send a video text message to today?
Sizzling Client Spotlight
Be honest — how long have you had "write a book" on your bucket list? It's a fun thing to dream about, yet it can be a daunting thing to actually do without the help of a ghostwriter like Stephanie. Trust us, after publishing Stephanie's book, we have a whole new level of compassion for people who are trying to write their own books! It's so hard to write your own stuff!
Even so, the rewards of writing a book are vast. When you write your own book, you position yourself as a thought leader. And thought leaders get booked to speak on podcasts and on live stages. They attract clients with bigger budgets. They get quoted in the media. Thought leaders get the opportunities many people want but few actual get.
Our client, Kellye Laughery, is one of the few. The Founder of The Center For Family Unity, Licensed Marriage and Family Therapist, Blended Family Advisor and author of the #1 bestseller, Blended Well:  How To Infuse your Blended Family With Hope And Healing In 30 Days was able to check "write a book" off her bucket list in August.
We had the privilege of walking Kellye through the process of writing her first book one page at a time and then developing a book marketing plan that will most certainly position her as a thought leader in the blended family counseling space. 
Congratulations, Kellye! We're honored you gave us the privilege of serving you and are excited to see the future unfold for you!
Amanda's Apps & Tools
If you know me, you know I love apps and tools.  Anything that makes my life easier is a welcome addition to my day-to-day. If you're the same, and especially if you use social media in your marketing efforts (which you should) you've got to take a look at Tailwind!
Tailwind has completely revolutionized the way we do Pinterest and Instagram. In less than an hour each week, you can:
schedule pins
re-pin old content that your audience has loved in the past
find new content your audience will love
schedule Instagram posts ahead of time. Yes, Really! I have tried so many different platforms to make Instagram and Pinterest less time consuming and easier to stay on top of. Tailwind makes it so easy!
I'll be honest with you — Tailwind is my new best friend. My favorite feature is Tailwind Tribes for Pinterest, where you can connect with other people in your industry, find even more content your audience will love, and share your content with an even bigger audience… and did I mention you can do all this in just one hour?! Does it get any better than that?
Actually, it does get better. Because if you sign up using our invite link, we'll both get $15 of credit. So thank you, and you're welcome.
SizzleForce In The Media:
We love sharing marketing tips, tools and tactics! Here are some of our most recent contributions:
I hope you've enjoyed this edition of Tales From A San Diego Copywriter & Brand Strategist. If you liked it, do me a favor and shoot us an email or hop in our Facebook Group and share your feedback. If we get enough of it, I'll pop back on the blog again sometime soon to share more of what I can extract from my favorite San Diego Copywriter's brain.