Last week, we dropped off my oldest son at college and I couldn't help but think about digital marketing funnels. Well, I couldn't help but think of digital marketing funnels after the Niagara Falls-level tears finally stopped. 
You see, the whole college selection process has a lot in common with what we do here at SizzleForce Marketing. 
A potential student becomes aware of colleges and universities through family ties, intentional research, or maybe even a sports or extracurricular offering. The student gains interest in a particular school and wants to know more about what life might be like if they attend and where they can go after they graduate. The desire to attend grows so much they decide to apply, which is the action (and really, the school nets the application fee). And then the acceptance waiting game begins. 
This is a classic example of the buyer's journey through a digital marketing funnel.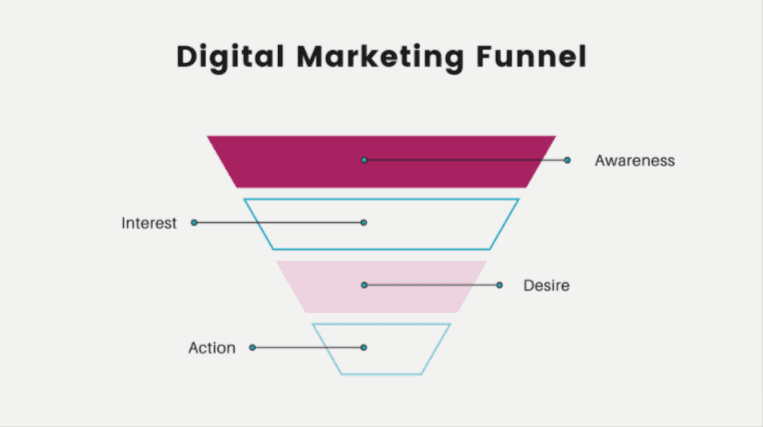 As demonstrated by that little chart up there, a digital marketing funnel (or any marketing funnel, really, they just happen online a lot more frequently) shows the steps a person takes as he or she discovers, engages with, and, ultimately, purchases from your small business.
There are four main stages of a digital marketing funnel: 
Awareness:

Everything you do to get your brand, products and services in front of an audience. This includes your organic search results (SEO), social media posts, content marketing efforts, customer reviews, press, word-of-mouth, and paid advertising.

Interest:

When someone begins to consider your brand as a viable option to meet their needs. This includes their return visits to your website or social channels and any time they spend learning more about what you do and why you do it.

Desire:

The sweet spot where interest becomes consideration. The prospect begins weeding out other solutions and seriously considers whether your product or service will work for them.

Action:

Finally, the prospect turns into a paying customer increasing your conversion rate and your bottom line.
You can see how a digital marketing funnel is essentially the college application and admission process now, don't you?
But you're not here to talk about back-to-school season. Instead, you want real marketing help for your real small business. And I've got you.
Before we dive in though if you leave this page with only one piece of information, I want it to be this:
A
digital marketing funnel
acts as a kind guide
for potential customers to engage with your small business. 
That's why it's so incredibly important. Your marketing funnel, when configured properly, anticipates the needs of the people who you can serve best and shows them how to know, like and trust you. It's absolutely worth the time and effort. 
Okay, now let's talk about how to build one.
How to Build Your Own
Digital Marketing Funnel
Step One: Evaluate the Top of the Funnel
The best place to begin when building your digital marketing funnel is to evaluate where you are at the present moment. How do your potential customers discover you now? And do you have any measures in place to find out how they are finding you?
If you're not making any margin in your schedule to think about and evaluate what you're already doing, you're not going to make progress in your marketing. That's a plain and simple fact. There's no magic marketing formula that will make you immediately profitable with the click of a button (despite what Instagram tells you). 
Some helpful questions to ask yourself while doing a self-analysis of the top of the funnel:
What is my ultimate goal for this

digital marketing funnel

?




This sounds simple, but a lot of people are trying to do too many things at once. This splits your focus and your resources. It might work occasionally, but when you name what your ultimate goal is, every other step in the funnel gets clearer.




Does this make sense for a stranger to my product?




A lot of times we can be too close to our brands, products and services. We talk the lingo and we know the ins and outs of everything involved. This is a strength, but it can also feel like a barrier to someone who is unfamiliar with you. It's never a bad idea to run through the customer journey as someone who might not know you.




Is there something missing from my message?




Again, when we are in our businesses every day, it can be hard to notice when there's something missing from the buyer journey. When you're at the top of the funnel, you have a bird's eye view of what the journey looks like for someone who might enter into it.




How am I building my brand awareness?




The thing about marketing work is it's always so exciting and so full of ideas (at least for me, it is!). But we can also forget where and what we're doing because of all of the ideas. Definitely take stock of your marketing efforts and what you're actually saying "yes!" to when it comes to building brand awareness, which in turn gets more people to the top of your funnel.
Step Two: Use Landing Pages to Pique Curiosity
Once you've spent time thinking about introducing people to your content, you can start thinking strategically about generating interest. The interest stage of the funnel allows you to show off your strengths, but the best way to show off is by letting users imagine themselves with the end result. 
How do you do that? You build a comfortable and inviting place for them to explore. 
With landing pages, you can focus on the one product or service that grabbed the user's attention to begin with and show them what life could be like.
For example, nail polish company Olive & June launches a new color collection with each season. Yes, I could visit the regular website to learn more and track down the new colors for fall, but the company has made it easy for me by designing a special landing page just for Fall 2021.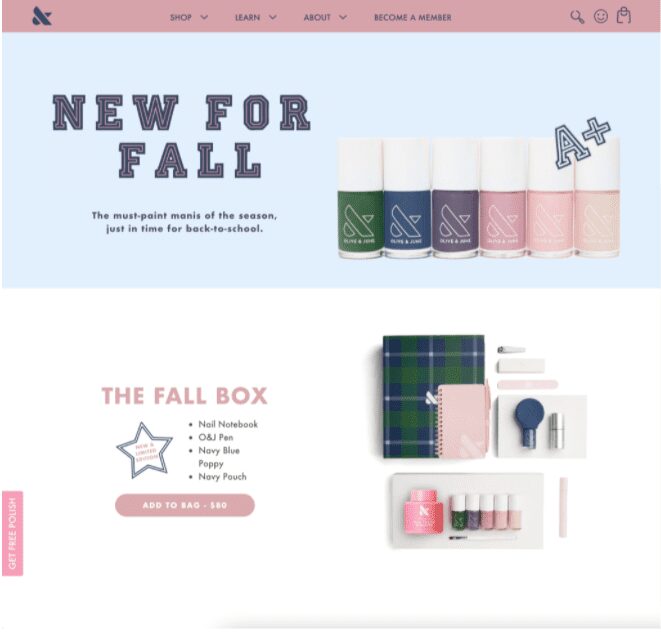 As you can see from the screenshot, this landing page leverages the back-to-school season (wait, am I going to cry? No? No, I'm good) to build excitement and pique my curiosity about what's in the Fall Box. 
I can see the new colors. They're telling me there's a new limited edition box available, and if I continue to scroll down, I get a detailed look at the six new colors in the fall line on different skin tones. This helps me imagine what I might wear with say a Social Studies manicure or what colors might look best for an ombre effect. 
And if I stay on the page, they tell me they'll help me figure out exactly how to perfect an at-home mani with a free online manicure class.
You see how this landing page took us from awareness to interest and straight to desire? I've already made a mental note to check out the rest of this collection when I'm done with this post (and not a moment before!).
You can see how landing pages make the buyer journey a richer, more fulfilling experience, right? They are a fantastic resource for serving your customers and showing off what you do without looking desperate or constantly spending money on ads. 
Step Three: Build Case Studies to Create Desire
By creating a landing page to generate interest, you also make space to show off social proof and why people shouldn't live without your company. 
Let's return to our Olive & June example. On the landing page, they've included swatches of the new paint colors, but do you see the "See our besties wearing it" under each call-to-action button?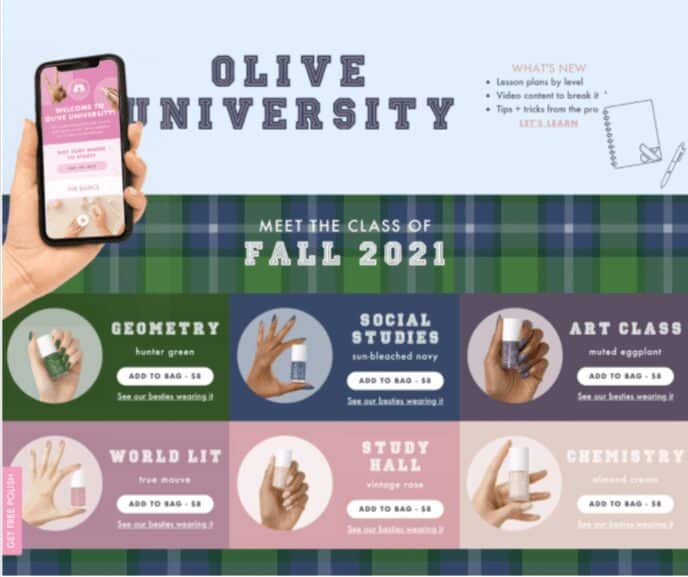 Here's what they're accomplishing with this:
Building mini case studies in color and skin tones

Crowdsourcing user generated content they can use online and on social

Reinforcing customer satisfaction by calling shoppers "besties"

Showing what a manicure could look like if you use their polish
With every tab over on these case studies, Olive & June is building desire for the product and helping the buyer transition from interest to consideration along the digital marketing funnel. 
*Finally* Step Four: Assess the Bottom of The Funnel
The last step as you build (or reassess) your digital marketing funnel is to consider the bottom of the funnel, that ultimate goal you want the buyer to achieve. This is typically called conversion because it's the stage where a visitor with potential converts to a paying customer. 
Remember when I asked you to determine the goal of your digital marketing funnel. This is the moment where you make accomplishing that goal as easy as possible for the customer. 
Here are a few questions to ask yourself while looking at the bottom of the funnel:
Is the desired action crystal clear?

Is any part of the check-out process confusing for the customer?

For e-commerce stores, are there multiple ways for someone to pay online?

Have you answered any objections or hesitations with a FAQ section?
Taking the time to answer these questions and maybe even walk through your check out process yourself will only help your conversion rate.
The End of the Funnel, The Beginning of a Relationship
Now you know everything you could ever want to know about digital marketing funnels, but there's one thing I want to remind you of before we go. If you'll remember our example from the top, the college admission cycle is a lot like a marketing funnel. But the work doesn't stop when someone receives their acceptance letter. 
There's a whole lot of communication and relationship-building to ensure new students have a great experience and choose to stick around past the first semester. The same concept applies to your work!
Acquiring new customers costs anywhere from 5 to 25 times more than it does to keep an existing customer, according to several studies (and aggregated by the Harvard Business Review). 
That means it's worth spending time and resources on creating new ways for current customers to support you. 
Although it's argued in the marketing world, there are two more stages to the digital marketing funnel: customer relationship and retention. And, at least in my experience, those two stages only help new people find the top of your funnel, especially if you do them well.