What do you think of when you think of Instagram? My guess is you probably think of pictures of food and Starbucks cups, workout and mirror selfies, sunset pictures and college-aged kids getting their "Instagram model" on with "outfit of the day" and "#nofilter" posts.
You are not alone. That's been my perspective of Instagram as well. But the truth is…
Brands on Instagram regularly see engagement from around 4% of their total followers (compared to less than 0.1% on Facebook and Twitter) and get 10x more engagement on Instagram than they do on Facebook.

70% of users actively look up brands on Instagram and 80% of users follow at least one brand.

More than 200 million users visit a business profile at least once daily.
So while yes, there are mirror selfies and brunch pictures, users are also showing a consistent willingness and even a desire to interact with brands on Instagram.
This might be why Instagram has seen a 115% increase in organic marketing since 2012 — while Facebook has seen as 63% decrease in the same timeframe.
The fact is, users on Facebook shy away from interacting with brands, while users on Instagram actively seek them out. And with constant changes being made to Facebook's algorithms, Mark Zuckerberg is making it more difficult than ever (not to mention more expensive) to get in front of your audience on Facebook.
There is a mass pilgrimage happening from Facebook to Instagram, and if you haven't gotten in on it yet, you need to.
As you make this transition, it's important to keep in mind that while Instagram is owned by Facebook, it is still its own platform, with unique requirements and guidelines for posts. If you're brand new to the platform, it can seem overwhelming to try and master another social media site when the reality is, something newer and shinier will probably come along in the not-too-distant future and take the place of Instagram anyway, right?
To save you a ton of time and a major headache, I've collected some of my best tips and tricks for Instagram, so you can find everything you need to get started, right here. Let's jump in.
There are essentially 2 parts to any Instagram profile: the bio and the posts themselves. The great thing about this is that it's so simplistic, it makes it super easy for people to interact. However, because there's so little to it, you have to be really intentional about what you say and how.
First, let's look at the Instagram bio.
8 Tips For Making Your Instagram Bio Stand Out
1. Include your tagline
Your brand tagline helps visitors learn, in seconds, whether they want what you're offering. This is their first impression of who you are and what you do.
2. Keep it short & sweet
Instagram limits you to just 150 characters so you have to quickly communicate the point of your post. Use bullet points to help break it up and make it easier to read (and to give yourself permission to skip grammar & punctuation rules so you can make the most of the limited space available)
3. Use emojis
Even if you think they're childish, silly or lame. The fact is, they work. They help your bio stand out in a sea of virtually identical bios. Choose an emoji that fits your brand and use it in place of regular, boring bullet points. We use a star on our profile but the options are virtually endless. You can choose anything from a heart to a hospital building or ambulance to a zombie (if you work in an industry that allows you to use the zombie, please reach out to us, we want to meet you!)
4. Add something personal
You want to look like a "whole" person. Are you a mom? Do you really, really love Harry Potter? Do you enjoy rock climbing or surfing when you're not working? Include something about you in your profile that is completely unrelated to work.
5. Share your name and your business name
Make your username your business name and the headline of the bio your actual name, or vice-versa. For example, my username is SizzleForce and my headline is Stephanie Nivinskus. Again, this allows people to see you as a person, rather than just as a business. And if you've followed me for any amount of time you know I'm all about humanizing business.
6. Get specific
Instagram allows you to include a category on your profile. Get as specific as possible. You could select "Health & Beauty" but that's a really broad category. If there's a way to get more specific, do it!
7. Include a link & make use of call to action buttons
Link to your scheduling page, Facebook group, opt-in, upcoming events, etc. Be sure to tell people what they're getting when they click!  Use the action buttons to invite people to easily call or email you, shop, schedule a meeting or make a reservation. Note: to access this feature, you have to have a business profile. To switch your account from personal to business, simply open the Instagram app, click on the 3 lines on the top right of the screen, then settings, then "Switch to business profile". Once you have a business profile, to edit your action buttons, tap Edit Profile then Contact Options.
8. Include hashtags
If you are using brand specific hashtags (which you should be — more on that later), include them in your bio to make it as easy as possible for people to connect with you and join your community. Invite people to use your brand hashtags and then reward them for it by re-posting their content!
Once you've nailed your bio, it's time to really set the tone for your brand on Instagram. To do that, here are some of my favorite ways to make your Instagram posts shine.
8 Tips For Making Your Instagram Posts Stand Out
1. Double-Check Your Cropping
The more space your post occupies, the better it will do. When it first started, Instagram only allowed you to post square images but they've since added the ability to crop images and to upload both landscape and portrait pictures.
A tall photo takes up the most space so as often as you can, use this shape for your photos. Square photos are common for Instagram because that's the default, but stay away from landscape photos/videos as much as possible. They simply don't take up enough space in the feed.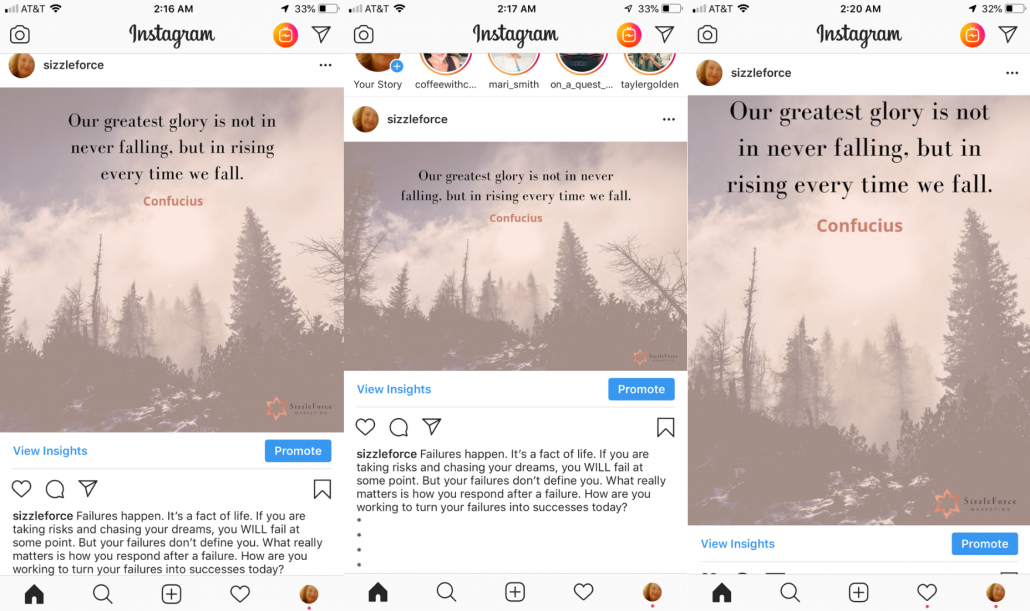 You also want to make sure your pictures/videos are cropped the way you want them to be. For pictures, you can zoom and crop as you wish. When you upload a video, there is a "fit to frame" button that looks like this: < >. Use it to make sure you don't accidentally crop out part of your videos!
2. Avoid Using Text In Videos
Text in videos is fun and works really well on Snapchat and in Instagram stories. But in regular posts, it doesn't do much for you. Instead of using that same video you used for your story with the text and hashtags laid over the video, take the clean video and post it with the text and hashtags in the caption. This allows the video to stand on its own and gives people a reason to look at the caption, where you can direct them to the link in your bio or another action step you want them to take.
3. Brand Your Entire Profile
Your posts should tell a collective story. Take a look at Achieve The Impossible's profile. The majority of their posts are super simple – black and white backgrounds with quotes. But they have a million followers! Canva is another great example. They're not posting anything revolutionary, they're just doing what they do best — simple graphic design concepts — and focusing on one color scheme to pull it all together.  Users should be able to visit your profile and within a couple of minutes have at least a baseline knowledge of who you are as a brand.
4. Use Hashtags Wisely
Instagram allows up to 30 hashtags in a post. Use them all! You want to use some generic hashtags but also mix in some branded hashtags you can dominate. For example, I use generic industry tags like #MarketingTips, #Entrepreneur and #smallbusiness, but I also use my brand hashtags #ShowcaseYourSizzle and #AbsolutelyUnforgettableBrand on every post.
Hide your hashtags by adding a few hard returns between the caption and tags, with asterisks or emojis on each line – see screenshot below!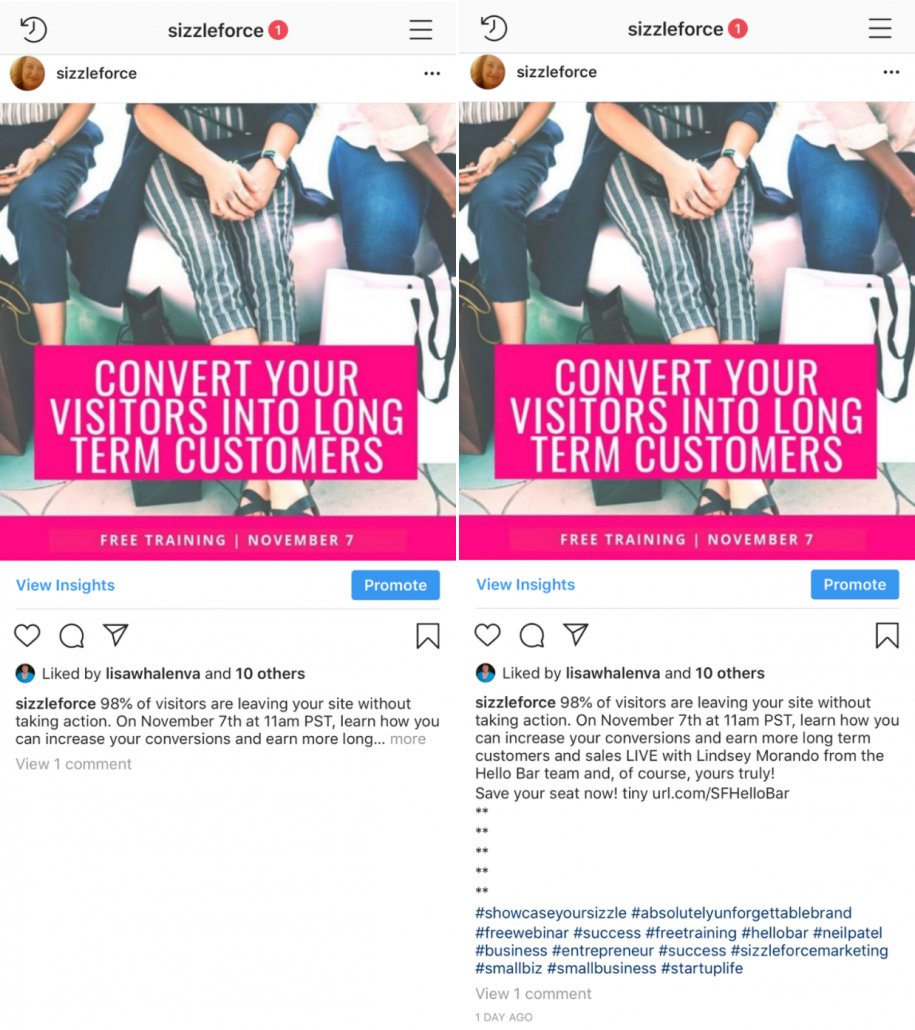 5. Post Personal Content, Too!
Your audience needs to get to know your business, but they also want to get to know YOU. Post about your day off trip to the beach with your kids, a new outfit you just bought or the adorable puppy you just brought home. Use non-business related hashtags to expand your reach even further.
6. Post Often
The life of an Instagram post is much shorter than on other platforms — if your followers don't see it in the first 3-4 hours it's posted, they probably won't see it at all. This means you need to post more frequently to make sure you're staying in front of your audience. At minimum you should be posting 3-5 times per day, but more is always better in the Instagram world!
7. Expand Your Idea of What "On Brand" Means
Post behind the scenes shots, inspirational quotes, or things that are outside of your niche but still relevant to your industry and audience. For example: if you're in the skincare industry you can post self care content. If you work in web design you could also post graphic design tips or even marketing strategy content. Again, use appropriate hashtags
8. Use Tailwind
Tailwind is the only tool that allows you to schedule and automatically post to Instagram! It makes it super easy to schedule an entire week's worth of content all at once, quickly add tags, and reorganize posts as needed. It's been a lifesaver for our busy social media manager. Click here to sign up and get a $15 credit!
No Instagram blog would be complete without mentioning Instagram stories. If you're not on Instagram yet, start using stories immediately when you join. And if you are on Instagram but you haven't used the Stories feature yet, it's time to start. This is a great place to post in-the-moment content when you're at events, as well as the perfect place to promote special deals or new products/services.
Well, what are you waiting for? Get started on Instagram now!
And if you sign up for Tailwind, please shoot us an email and let us know what you think — we love it so far and we're excited to share it with you!