Book Stephanie As Your Next Marketing Keynote Speaker
Stephanie Delivers Three Signature Marketing Talks
Marketing Solutions, Systems & Step-By-Step Guidance
Are Just One Phone Call Away
CEO's wear many hats–too many hats. Often playing the role of C.E.O, C.O.O. and C.F.O., all in the same day, it's no wonder so many entrepreneurs confess to feeling burnt out, bummed out and flat out frustrated–especially when it comes to marketing. Visionaries at heart, they're crying out for someone to simplify the marketing process so they can generate more leads and close more sales.
Enter, Stephanie Nivinskus, Founder and CEO of SizzleForce Marketing.
This energetic, authentic, 25+ year strategic marketing veteran delivers power-packed talks that empower small business owners with branding insights & online marketing strategies that create powerful results. 
You May Have Seen Stephanie Speaking At These Events:
What People Say After Hearing Stephanie Speak:
"Stephanie lit up my stage with her energetic, humorous speech while equipping the CEOs I serve with proven and powerful brand-building strategies." 
–Allison Maslan, CEO, Pinnacle Global Network
"Stephanie Nivinskus is that rare kind of speaker where you feel her heart, recognize her wisdom and leave with actionable strategies." 
– Don Williams, CEO, Don Williams Global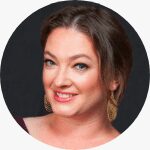 "Stephanie's energy is contagious. She engages the audience from the minute she steps on stage, until long after they've gone home. Her joy and passion come through in every word she speaks." 
-Nichole MacDonald, Founder, The Sash Bag
" Stephanie is an engaging speaker, and a relatable personality. Through storytelling, she brings the audience on a journey with her, helping them digest complex topics in a way they can understand and remember." 
– Marliese Bartz, CEO, Bartz Consulting
"Stephanie had the room full of CEOs riveted as she dazzled the group with amazing marketing and branding tips. And not just "conceptual" ideas, but relevant, timely, and stone-cold brilliant strategies that any leadership team can utilize to grow their business exponentially! She is a dynamic and wildly entertaining speaker with a treasure trove of awesome business growth tips!" 
-Dennis Ford, President, Quantum Leap Productions