I've never been one to shy away from an opportunity to entertain someone. I love making others laugh and distracting them from the weight of their troubles even if only for a little while. (Just check out this video I convinced my husband to help me with at the start of the pandemic.)
I also have just as much fun educating people on how to make the most with what they have in their small businesses. 
So when Instagram announced Instagram Reels, a new way to share video content on one of the most popular social media apps of all time, I. COULD. NOT. BE. MORE. EXCITED.
But as with all new and shiny things in marketing, it's always wise to gut-check your excitement to see if it's worth your time, and, more importantly, a way to connect with your audience. 
What are
Instagram Reels
? And Where Did They Come From?
Instagram Reels first rolled onto the social media scene in August 2020 to give content creators "more opportunities as on its app" (and as a direct response to the short-form video app, TikTok). As TikTok exploded in popularity with Gen Z and more people were stuck inside looking for in-home entertainment, Instagram introduced its then 15-second video feature that offered easy editing, trending audio and quick potential for viral posts. 
The introduction of Reels isn't surprising, since Instagram said itself that it "is no longer a square photo-sharing app." Instead, company head Adam Mosseri turned to its own research noting that users look to the platform to be entertained. 
Now, Reels is a way for users to share quick video content that doesn't necessarily have to be polished or well-edited to make an impact. As an avid Reels user myself, I find that preparing to film a Reel requires different energy than filming a video for YouTube.
And, of course, as with anything on social, things constantly change and improve. Initially only 15 seconds, Instagram Reels can now be 60 seconds, meaning general users, content creators and businesses have plenty of time to work with to make a meaningful impact.
How can
Instagram Reels
Help My Small Business?
When the feature first came out, Instagram prioritized delivering Reels to users whenever they opened the app. You might have seen Reels filter into your main feed for accounts that you may like or that friends of friends followed. Now, there's a dedicated Reels tab that delivers bite-size videos about topics and subjects Instagram knows you like based on what you interact and engage with. 
Before I go any further, here's a quick refresher of how to find Reels now.
Step 1. Open Instagram.

Step 2. Tap the "Reels" icon in the center of the app.

Step 3. Enjoy joyful creativity for as long as you want.
So, how do entertaining short videos help your small business? 
In the marketing world, we like to call it edutainment, or presenting educational content in an entertaining way. Sure, you might say you're not in the education business, but you still have to tell your clients, customers and audience what you do, how you do it, and why they need you. And I call that education!
Instagram Reels gives you an outlet to get creative with the information your followers need to know about your business and how you can help them. 
For SizzleForce, I started experimenting with a mix of "How To" content, lessons learned, funny videos using trending audio, and videos of Lucy, our Chief Happiness Officer. (Pro tip: No one on Instagram can resist a cute dog. You can see on my profile that any Reel with Lucy gets more views than anything!)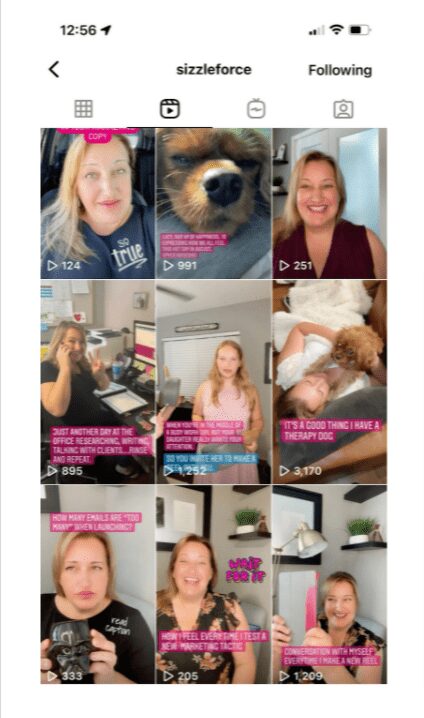 But, more than anything, I started looking for ways I have fun in my work and how I could bring others into it while helping them meet their own goals. That's why I fell in love with marketing to begin with. Creating content for Instagram Reels with that in mind changed the game for me.
Now, to help you get started with creating your own Instagram Reel masterpieces, I've compiled a list of some of my favorite Reels below that feature businesses having fun with their niche. (Oh, and here's Instagram's own tutorial on the feature if you need it!)
Are you swimming with great ideas?! I know, you might be thinking, "This is all well and good, Stephanie, but when do I have time to do this?" I hear you. I understand where you are coming from. But with 200 million users visiting at least one business profile on Instagram every single day, Reels is absolutely worth looking into. Even if you use a template from Canva to get started.
Now that you know what Instagram Reels are and how they can help your business, open up that Camera app on your phone and get to work! And don't forget to have a little fun with it. ?